Clarksville, TN – CDE Lightband continues to make progress in restoring power to Clarksville customers, reporting at 1:00pm Monday that about 5,800 homes and businesses remained without power after a severe storm Saturday afternoon knocked out service to more than 30,000 customers.
CDE crews, along with help from regional utility companies, whittled the number of outages to 17,000 late Sunday and about 7,000 at 6:00am Monday.
"We made good progress through the night and continue to make progress today," CDE General Manager Brian Taylor said. "We are still looking like we will have some customers without power on Tuesday. I'd like to thank our customers for being patient throughout this process."
Taylor also reached out to thank the regional utilities who had come to Clarksville's aid: Gallatin Department of Electricity, TUA LightTube, Murfreesboro Electric Department, Middle Tennessee Electric, Lenoir City Utilities Board, City of Cookeville Electric Department, and Huntsville, AL, Utilities.
Crews from NES in Nashville were expected to join the effort later Monday, and two private companies, Davis H. Elliot Company Inc. and Wright Tree Service were working alongside CDE.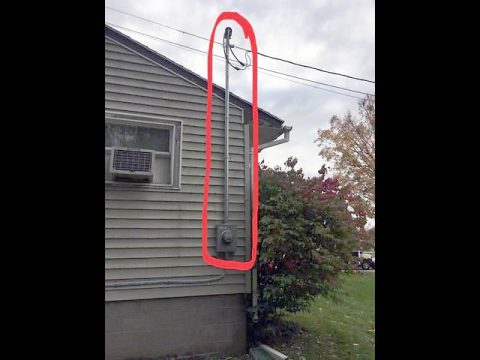 CDE also shared information about a key piece of hardware, the Service Mast/Riser, that allows CDE to connect power to customers.
The Service Mast/Riser is property of the homeowner. It includes the weather head, the neck and the meter base.
CDE Lightband is only responsible for connecting its lines to the top of the weather head and installing a CDE Lightband meter to the meter base.
If the customer's Service Mast/Riser is damaged or needs replacing, CDE Lightband will disconnect the power lines, but the homeowner must have the Service Mast/Riser repaired by an electrician.
Once that is done, CDE Lightband can reconnect its lines and restore service. However, an inspection by Clarksville Building and Codes Department will have to be done within seven days.
Some Streets remain closed
The Clarksville Street Department reported Monday that several streets remain closed because of debris and other problems and a handful of intersections still had inoperable signals.
Here's the list of road closures:
Airport Road to Tiny Town Road at Outlaw Field.
Needmore Road from Keyland Drive to Thrush Drive.
Bunker Hill Road.
506 Linda Lane.
Gracey Avenue.
Forbes Street.
Current Street.
E Street.
Here is the list of intersections with traffic signal problems:
Jordan Road and Purple Heart Parkway.
Lafayette Road and Cunningham Lane.
Fort Campbell Boulevard and Concord Lane
Fort Campbell Boulevard and Purple Heart Parkway.
Franklin Street and Ninth Street.
Franklin Street and Tenth Street.
Madison Street lane direction arrows.
Clarksville Parks and Recreation Facilities
The Clarksville Parks and Recreation Department also is battling power outages, wind damage and downed trees at several parks, pools and recreation centers.
These facilities, with storm-related issues, are closed until further notice:
New Providence Pool is without power, and lights on the pool dome were broken by the wind. It could reopen Tuesday.
Clarksville Greenway from Mary's Oak to Pollard Road Trailhead is cleared of trees but still needs extensive clean up. Pollard Road Trailhead to the Red River is closed because of downed trees and power lines.
Kleeman Recreation Center is without power and closed.
Heritage Park dog park (large dog side only) is closed because of tree damage.
Billy Dunlop Park and Robert Clark Park are closed until February for renovation.
Other parks had downed trees and other minor damage, but remain open.
Residents are urged to check Facebook pages for the City of Clarksville, CDE Lightband, Clarksville Street Department and the Clarksville Parks and Recreation Department for updates.