Waco, TX – The American Football Coaches Association named Austin Peay State University (APSU) head football coach Mark Hudspeth its Region 3 Football Championship Subdivision Coach of the Year, Tuesday. Hudspeth becomes the first Austin Peay coach to earn the regional honor from the coaches association.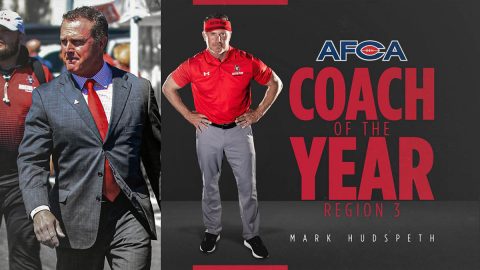 Earning regional honors automatically makes Hudspeth a finalist for AFCA National Coach of the Year honors, which will be awarded January 14th, 2020, at the AFCA Awards ceremony during the 2020 AFCA Convention in Nashville.
The AFCA?recognizes five regional Coach of the Year winners in each of the Association's five divisions:?Football Bowl Subdivision, Football Championship Subdivision, Division II, Division III and NAIA.
The winners are selected by active members of the association who vote for coaches in their respective regions and divisions.
The 2019 Ohio Valley Conference's Roy Kidd Coach of the Year Award winner, Hudspeth led the Govs to their first OVC championship since 1977, the program's first-ever nine-win regular season mark and their first-ever FCS playoff appearance.
His first season also has seen the Govs post program single-season records in scoring (508 points), touchdowns (68), passing yards (3,397), passing touchdowns (31), total offense (6,091 yards), yards per game (435.1), and rushing touchdowns (34). Hudspeth's Govs are among the nation's Top 10 in fourth-down conversion percentage (64.0 percent, 10th), fumbles lost (3, 2nd), rushing defense (91.6 ypg, 7th) and sacks allowed (0.64, 3rd)—an example of the effect Hudspeth and his staff have had in across-the-board improvements for the Govs.
He became the fourth head coach in program history to earn OVC Coach of the Year honors, joining Bill Dupes (1964), Boots Donnelly (1977) and Will Healy (2017). On November 25th, Hudspeth was named a finalist for the 33rd Eddie Robinson Coach of the Year Award, given annually to the top Division I FCS coach courtesy STATS Perform Inc.
The first-year head coach also engineered the first two FCS playoff victories in program history, against Furman (November. 30th) and Sacramento State (December 7th). The Govs are just the 15th team in OVC history to advance to the quarterfinals or further in the FCS Playoffs since the playoff expanded to 16 teams in 1986 (and later 24 teams). The Govs are the first non-Jacksonville State squad from the league to advance to the quarterfinals since Western Kentucky in 2000.
Hudspeth will lead the Govs into their quarterfinal contest at fifth-seeded Montana State, 7:00pm, Friday, in Bozeman.