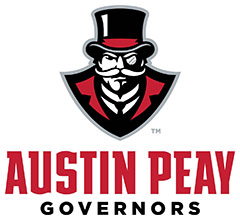 Clarksville, TN – Austin Peay State University (APSU) women's tennis had ceased to be relevant. In the mid-1980s, APSU won a pair of Ohio Valley Conference championships and continued to contend for the title until the mid-1990s. But for some 15 years, APSU women's tennis was an afterthought as far as the OVC was concerned.
But in 2010, a sophomore, Vanja Tomic Vidovic, transferred in the spring semester from NAIA program Lindsey Wilson College, where she played No. 2 singles and No. 1 doubles as a freshman. First-year Austin Peay coach Malik Tabet had developed a relationship with Tomic Vidovic, a Bosnia native, while he was at Indiana State… before the program was eliminated, and Tabet came to Austin Peay State University as coach.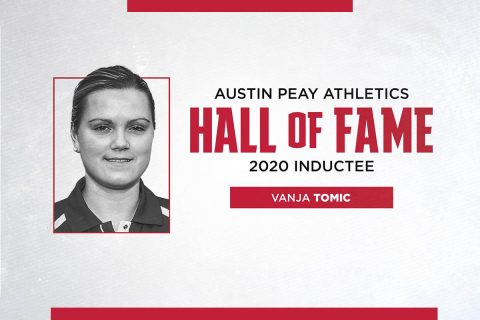 "I was recruiting Vanja when I was at Indiana State, and there was some type of eligibility complication with a math class," said Tabet, now the coach at the University of Indianapolis. "When that happened, I was able to steer her to Lindsey Wilson College, where she spent her first year.
"We stayed in contact. One thing about Vanja, she is very loyal person. She was recruited by major programs, but we always had a good relationship. When I got hired at Austin Peay State University, she decided to come there with me."
In her first season as a Lady Gov, all Tomic Vidovic did was play so well to be named OVC Player of the Year (along with All-OVC)—the eighth time a Lady Gov earned that honor, but first since 1988—in notching an 18-2 singles record, including a season-ending 17-match winning streak.
Tomic Vidovic was a perfect 9-0 in OVC play, only being pushed to three sets once during league action. She also teamed with Mariana Pagan to sport a 16-3 doubles mark, losing three of their first six matches before reeling off 12-straight victories that included seven straight league wins en route to an 8-1 OVC record.
Tomic Vidovic led the women's tennis team to an 8-1 second-place regular-season mark. Those eight wins were more than APSU's women had accumulated in the previous four seasons combined when the Lady Govs failed to reach the OVC tourney. In fact, Austin Peay State University had not qualified for the OVC tournament since 2003.
In the OVC tourney, APSU rolled past Murray State in its opening-round match and then blew past Eastern Kentucky to win the OVC championship, advancing to the NCAA tournament against Georgia Tech. After losing the first set in her NCAA match, she was up 4-2 in the second set to Irina Falconi, who currently is ranked 64th in the world, when the match ended in an APSU loss.
Most really didn't know Tomic Vidovic, even many of those close to the tennis program. The Banja Luca, Bosnia and Herzegovina native, spoke broken English with a heavy accent. She was extremely quiet, except around teammates. What most did know was how talented Tomic Vidovic was on the tennis courts… that she led APSU to its first NCAA tournament appearance.
"She was—and still is—a very private person," Tabet said. "She was very focused on her education (she received her bachelor's degree in molecular biology from Austin Peay and since has been awarded her master's [human molecular biology and physiology] and working towards her Ph.D. from the University of Belgrade while raising triplets), but she still managed to be a great competitor on the court. She was one of the few kids that had a natural gift for the game."
Although Tomic Vidovic and Austin Peay State University were unable to repeat that team magic in her succeeding two years, she finished her career with an overall 52-11 record in three seasons as the Lady Govs No. 1 singles player. She was selected first-team All-OVC as both a junior and senior, making her a three-time first-team honoree.
"Vanya was very analytical on the court," Tabet said. "She could go do anything she wanted to with the ball, and she hit it flatter than anyone that I've known – flat and hard. She was left-handed…she was able to control the point very well.
"The way she hit the ball, low and flat, it made it very difficult for her opponents to be able to respond. She was very talented and had natural talent that, in my opinion, made her special. She had the flattest forehand – I mean, that thing barely bounced and just got over the net. She hit that consistently – and especially indoors – it was very difficult to face. When we played Georgia Tech in the first round of the (2010) NCAA (tournament), the Tech player (Falconi) was one of the top players in the country. Vanja took her down the stretch and, a few weeks later, Falconi was playing in the U.S. Open."
As a senior, Tomic Vidovic was selected the University's Legends Award recipient as the most valuable senior female athlete (going 18-2, 15-3, 19-6 in singles during her three seasons). She also was selected as the Most Outstanding Female Athlete after her standout final season – Tomic Vidovic became the first APSU tennis player to earn such distinction since the Most Outstanding Athlete Award was originated in 1994 when Susan Sheather was selected. Tomic Vidovic now joins Sheather as an Austin Peay State University Hall of Fame member.
"Vanja was my first recruit, and then we brought in Caroline Weikard (named OVC Freshman of the Year in 2010)," Tabet said.
"Vanja was so competitive. She was a tough athlete to train, but once you said 0-0, she was on. Those two (Tomic Vidovic and Weikard) were so competitive, which was great in a team, if you knew how to channel it. When they played together, they were really good," stated Tabet.
Last spring APSU won the OVC tennis championship, going unbeaten not only during league play but the regular season as well. But it was just a few short years ago Tomic Vidovic helped turn back the clock and make Austin Peay State University women's tennis became relevant again.
Brad Kirtley, Austin Peay State University's sports information director from 1984-2016, will provide an in-depth look at each member of the 2020 Austin Peay State University Athletics Hall of Fame induction class. The 2020 APSU Athletics Hall of Fame induction ceremony will be a 6:00pm dinner on Friday, January 24th at the Morgan University Center ballroom; the honorees also will be recognized during the following night's men's basketball contest against Belmont.
For more information about the Hall of Fame dinner and to make reservations to attend, call Tara Pfeifler, 931.221.6119 or email .