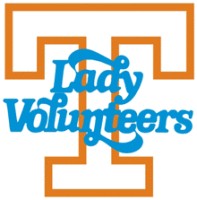 Knoxville, TN – Senior Rennia Davis turned in a double-double with 19 points and 11 rebounds to lead the Tennessee Lady Vols basketball team to a 77-52 win over Lipscomb in Thompson-Boling Arena on Monday night.
Junior Rae Burrell finished with 10 points to join Davis in double figures for Tennessee (6-1), and senior Kasiyahna Kushkituah and sophomore Tamari Key each added nine. Every active player for the Lady Vols finished with at least two points.
Lipscomb (3-3) was led by senior Taylor Clark who had 14 points and four rebounds.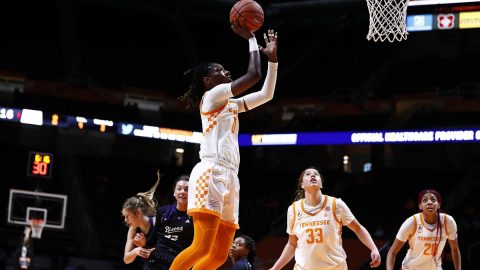 The game got off to a rocky start, as both teams struggled with turnovers in the opening minute and a half before Key hit a short jumper to get Tennessee on the board at the 8:18 mark.
Dorie Harrison answered with a bucket of her own on the other end, but Davis countered with six quick points for UT, fueling an 8-0 UT run that put the Lady Vols up 10-2 with 6:14 left in the quarter.
The Lady Bisons rallied back, cutting the deficit to four a minute and a half later, but Tennessee closed out the period with a 12-1 run, capped off by a Jordan Horston trey at the buzzer, to lead 26-11 heading into the second quarter.

Both teams fell into a bit of a scoring slump in the second frame with each squad managing just four points apiece over seven minutes of play, maintaining the 15-point spread until Tess Darby hit a 10-foot jumper with 2:22 left in the half and Emily Saunders followed it up with a bucket under the basket to stretch the lead to 34-15 with just over a minute remaining. Lipscomb scrapped back within four off a Casey Collier free throw and 3-pointer, but Davis hit two free throws in the final seconds to push the halftime score to 36-19.

The Lady Bisons opened up the second half with a 3-pointer by Taylor Clark, but Marta Suárez responded with a trey of her own on the next possession, spurring an 11-0 Tennessee run that put the Lady Vols up 47-22 by the 6:07 mark. Lipscomb responded with an 11-4 spurt of its own, pulling within 18 with 2:36 left in the quarter, but the Lady Vols closed out the period with six straight points to take a 60-36 lead into the final stanza.

Tennessee extended its run in the fourth, scoring nine unanswered points to stretch the run to 15-0 and build a 69-36 lead with 7:30 left to play. The Lady Bisons heated up from behind the arc in the closing minutes, pouring in 18 points to Tennessee's eight and pulling within 25 points for a final score of 77-52.

Fast Start: The Lady Vols scored 26 first-quarter points, the highest they've totaled in a first quarter this season. Meanwhile, they held Lipscomb to just 19 first-half points, tying for the fewest first-half total by an opponent this season.

Davis Making Moves: Rennia Davis recorded her 32nd career double-double with 19 points and 11 rebounds against Lipscomb, tying Tamika Catchings for sixth all-time in career double-doubles at UT.

Dominating The Paint: The Lady Vols scored 46 points in the paint while holding the Lady Bisons to eight. Tennessee has now outscored all seven of its opponents in the paint by a margin of 326-112.

UT Defense Affecting Foes: Tennessee entered the game ranking 14th in the nation in field goal percentage defense at 31.7 percent. After limiting the Lady Bisons to 30.4 percent, the Lady Vols have held all seven opponents this year below 40 percent and six of seven to 32 percent or lower. During the Harper era, only eight of 38 opponents have reached 40 percent field goal shooting in a game.
Box Score
Lipscomb 52, Tennessee 77
| | 1 | 2 | 3 | 4 | F |
| --- | --- | --- | --- | --- | --- |
| | 11 | 8 | 17 | 16 | 52 |
| | 26 | 10 | 24 | 17 | 77 |
Up Next for UT Lady Vols Basketball
Tennessee Women's Basketball begins SEC play on the road, traveling to Texas A&M for a 6:00pm CT/7:00pm ET contest on Thursday. The game will be broadcast on ESPNU.