Topic: A Christmas Carol

Clarksville, TN – With the musical hit Beehive: The '60s Musical Sensation bringing down the house nightly through October 15th, the Roxy Regional Theatre, Clarksville, has opened its 29th season of classics, musicals, regional premieres and world premieres.
 
For two nights only, October 21st and 22nd, New York actor Ashton Crosby brings his tour of Mark Twain: Adventures in American Humor back to the Roxy stage.  Then on October 28th and 29th, the infamous Mercury Theatre 1938 radio broadcast will be recreated live on stage with The War of the Worlds. 
«Read the rest of this article»
I'm proud to know the "Mayor of Franklin Street," and I call her my dear friend as well. She's been mayor longer than John E. Piper, or even before we entered the Guinness Book of World Records by having two women as mayors. Au contraire, we have three: McMillan, Bowers and King.
Paige King has changed my life, my attitude and my mind. She lets me see the cup as half full. I was not so slowly turning into a drudge and could only think of all we lacked. Paige has helped me see the treasure we have and how we can move it forward and make it bigger and better. If one is allowed more than one best friend, Paige King is mine.
Her shop, Hodgepodge, puts me in mind of all the unique shops I haunt when I'm outside of Clarksville. Now I can joyfully haunt one here. She said that having a theatre helped seal her decision to settle in Clarksville, which is nice to say and even more to mean. «Read the rest of this article»
The Roxy Regional Theatre is currently staging their musical adaptation of the Charles Dickens classic "A Christmas Carol." The play was adapted for the stage by John McDonald, and directed by Tom Thayer. The production opened to a packed audience on Friday night.
The show features Ryan Bowie, Travis Kendrick, Lisa MacAfee, Jackie Ostick, Collin Smith, Kendall Anne Thompson, and Nate Washburn, along with a rotating cast of thirty-four local youth portraying the Cratchit family children.
«Read the rest of this article»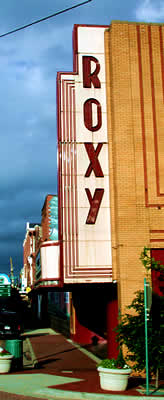 I believe that the "Christmas spirit" is already swirling through Clarksville like plump snowflakes that enhance all that they fall upon with newfound purity and beauty.  This city represents the "melting pot" of America with the same kind of unique diversity that we've all learned about snowflakes.
I've often expressed with celebratory fervor that the Roxy Regional Theatre's presence in our community continues to instill in me every time I absorb one of their excellent professional productions.  They invariably feature universal themes that imbue each audience member with that deep human connection that seems to cry out: "yes, I can feel what that character feels!"  The magic of theatre is consistently revealed in every play, and Artistic Director, John McDonald, expresses that concept brilliantly in the November issue of "Clarksville Family" in this simple declaration about his upcoming adaptation of Dickens' "A Christmas Carol": " . . . a simple tale of love, compassion and redemption . . ." «Read the rest of this article»
The Roxy Regional Theatre's 26th Season will enrich all the senses!
Although the 2008-09 season opens September 19, the annual gala is slated from September 20. The first play to hit the stage: The Robber Bridegroom, book and Lyrics by Alfred Uhry, music by Robert Waldman, adapted from the novella by Eudora Welty.
One of the only genuine bluegrass scores ever heard in a Broadway musical, this unusual tale of the Natchez Trace has a distinctive sound all its own. The Robber Bridegroom is the story of the courting of Rosamund, the only daughter of the richest planter in the country, by Jamie Lockhart, a rascally robber of the woods. The proceedings go awry, thanks to an unconventional case of double-mistaken identity. Throw in an evil stepmother intent on Rosamund's demise, her pea-brained henchman and a hostile talking head-in-a-trunk, and you have the recipe for a rollicking country romp. Play dates are September 19, through October11. «Read the rest of this article»