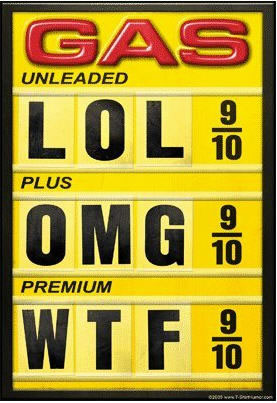 As of March 24 2008 the cheapest listed price of gasoline available in Clarksville was $3.08 per gallon for regular grade unleaded (courtesy of TennesseeGasPrices.com) with the indication that, for at least the moment, prices can be expected to remain stable. With the price of oil estimated at approximately $101 per barrel at the current moment, one gallon of gasoline costs approximately $2.61 to produce (figures courtesy of Bloomberg MarketData), meaning that there is a 15.26% profit margin being split amongst the relevant parties (and here we thought they were out to get us with unfair profit margins). Unfortunately for the rest of us, prices are likely to continue to increase for the foreseeable future for a variety of reasons which producers are largely powerless to stop. «Read the rest of this article»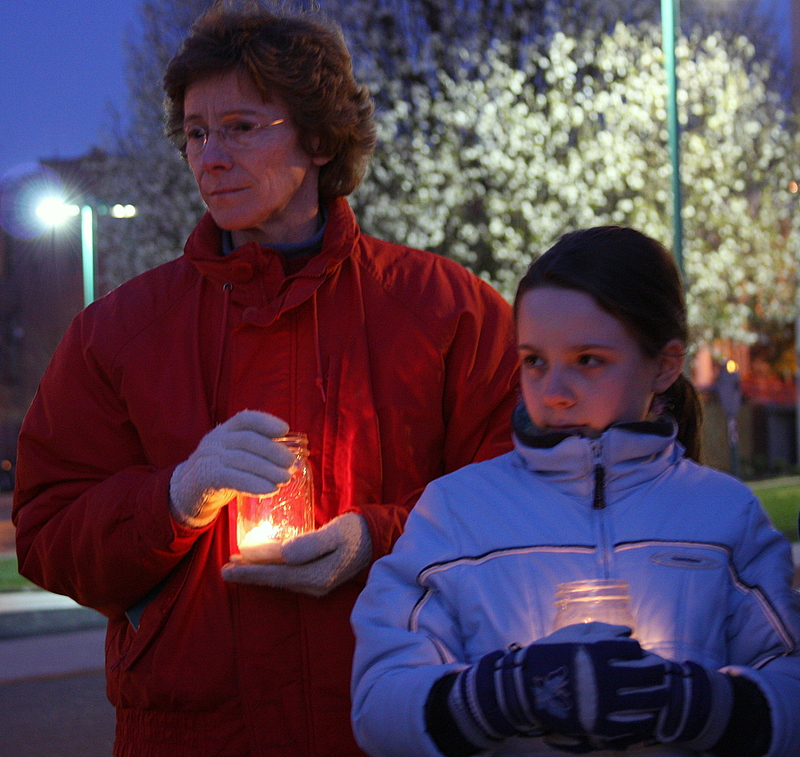 A group of eleven gathered on Monday at Public Square to light candles, view the statistics of war, read poetry, hear a song, sing a song, and acknowledge the 4,000 US military dead in Iraq.
We who gathered this time are all disconnected from the war, in the way that we are not relatives of anyone enlisted. But we know co-workers, students, clients, neighbors and acquaintances who are connected with the military. We are surrounded by military.
David and I read Christine Piesyk's recently published poem, Songs, written for vigil we held 1,000 soldier fatalities ago. The pain of picking up all the pieces of war from Vietnam to Iraq, is potent angst; something that you never want to have to do again. It is unfair for wars to take our best, chop them up and dump them back on our society, often as shells of their former selves, haunted by the war they waged in the name of duty. We who oppose the war have good reason to do so.
There is no good bomb. There is no good war, said my Grandmother, who survived WWI as a child in Germany. We who gather are in between, in between the "nothing is going on" stance of the media, and the overwhelming way the war rages on. In attendance this time were all middle class white Americans with one veteran. Three of our group were under 18. On this occasion, all of us except the vet, are Unitarian Universalists (UU's). «Read the rest of this article»
FreeThinkers for Peace and Civil Liberties will sponsor a candlelight vigil tonight at 7 p.m. at Public Square.  The event will include prayers, readings and a vigil.
Another landmark has passed in the Iraq War: 4000 American soldiers killed. The price tag that is these lives doesn't show up in the surge numbers or the war planning budget – there is no way it can — other than the price of body bags and the cost of the flight back home. Whatever "victim" benefits may be assigned to their survivors.
I sit here today, submerged in a sadness of deja vu, having done all of this before — nearly 40 years ago — in another time and place, another military town with another military base, when thousands of other soldiers who had a one way trip to war.
It is ironic that this number came on one of the holiest days of the Christian community, and that it has been treated with more silence and resignation than any other numerical landmark of the Iraq conflict. I am an activist opposed to the war, but that does not mean I do not support our troops. Our troops are great; they and their families deserve much more than the shoddy treatment they receive via multiple deployments, and post deployment care (or lack thereof).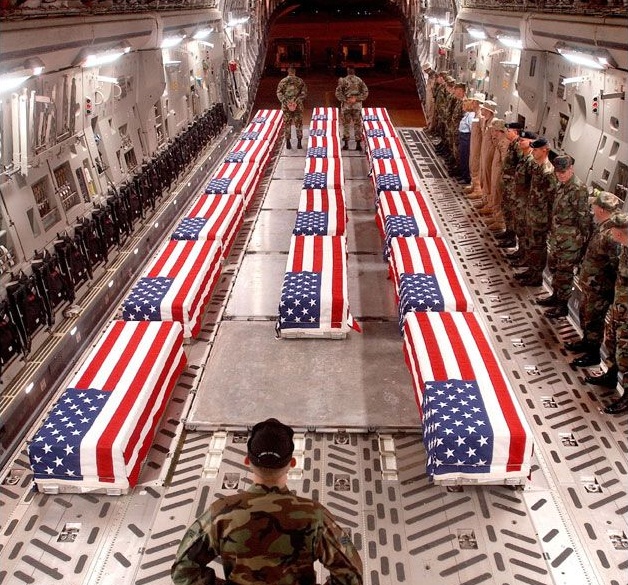 This is not a war the American people want; it is (or has devolved into) an administrative war waged by a national leadership — the Bush regime — that is in total disconnect with the people. This is a war for which we are spending not billions but trillions of dollars with little to show for those dollars but bodies — our troops, "enemy" troops, and tens of thousands of civilians caught in the crossfire. This a war riddled with underestimations, bad planning, corruption, and disinformation. To say nothing of the erosion of our own civil liberties. «Read the rest of this article»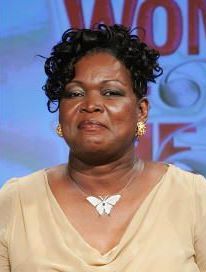 Alice Coles of Bayview Virginia will be the guest speaker at the Austin Peay State University's Library Athenaeum located on the third floor of the APSU Felix G. Woodward Library. This event will take place on March 26, 2008 starting at 1:00 p.m.A film screening of the documentary Black Soul will be shown followed by a question and answer session. Black Soul documents the rebirth of the rural town of Bayview, VA, and how Alice Coles led her community to change. Coles, 53, is now the director of the Citizens of Bayview for Social Justice the nonprofit organization which was formed by the Bayview residents.
Alice Coles is a community builder and activist who's hard work and dedication to the rural town of Baywiew helped give positive redevelopment to a town that had not changed very much since African Americans began to settle there after the Civil War.
Until 2003, most of the 114 residents of Bayviewlived in the kind of abject poverty that is difficult to grasp: two- and three-room shacks with no running water and no heat, and the constant threat of fires from faulty electrical wiring. In the last year, most of those people have moved into modern housing, thanks largely to the efforts of Alice Coles. «Read the rest of this article»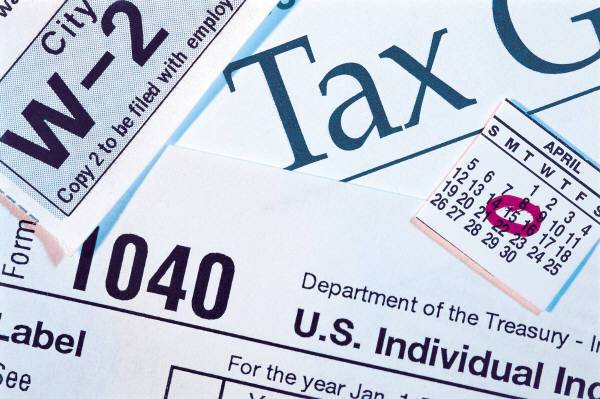 It's "that time of year" again — tax time. With April 15 as the tax filing deadline for 2007. We have collected the w-2 forms, the 1099s, and the statements on charitable giving, computing our itemized deductions for the year. Our government recognizes charitable contributions and permits 14 cents a mile for volunteers working for charitable and non-profit organizations.
The following guidelines constitute legitimate advice on donations that can save you hundreds of dollars.
If you have a Certified Public Accountant or tax prepare, you can save money by having all your deductions organized and ready ahead of time. Don't show up with a shoebox of tangled receipts. Preparers often charge by the hour, so do the as much preparation as possible ahead of time. «Read the rest of this article»
The House Democrat Review is a weekly feature that gives Tennesseans an in-depth look at what our Democratic state legislators have been working on this week, and a glimpse into what's planned for the coming week at our state house.
House Democrats Bring Home Schools First Funding, nearly $184 million in additional K-12 funds expected next year.
This week House Democrats were presented with the 2008 – 2009 projected BEP 2.0 funding numbers which show that, thanks to the Schools First Initiative passed last year, Tennessee's local schools are estimated to receive $183.2 million in additional funding.
"When we first began the task of improving our K-12 schools in Tennessee, we wanted to do it in a way that wouldn't put undo burdens on local governments," said Speaker of the House Jimmy Naifeh (D-Covington). "Thanks to the Schools First Initiative, we were able to increase education funding by over $340 million last year and nearly $184 million this year, while at the same time reducing the pressure on counties to have to raise their property taxes." «Read the rest of this article»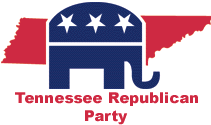 The House GOP Review is a weekly feature that gives Tennesseans an in-depth look at what our Republican state legislators have been working on this week, and a glimpse into what's planned for the coming week at our state house. 
"Right to hunt" constitutional amendment passes 105th General Assembly
House Joint Resolution 108 passed on the House floor this week with overwhelming aproval. The constitutional amendment would add provisions to the state constitution establishing the right to hunt, fish, and harvest game subject to "reasonable rules and regulations." An excerpt from the resolution reads:
Hunting and fishing are honored traditions in the state; citizens have enjoyed the bounty of Tennessee's natural resources from the time prior to statehood, including hunting and fishing for subsistence and recreation; therefore, hunting and fishing is a vital part of the state's heritage and economy and should be preserved and protected.
Having already passed the Senate this year, the amendment must now win the approval of the 106th General Assembly next year by a two-thirds vote. The measure could be on the ballot for referendum as early as 2010. «Read the rest of this article»
The Castle Coalition, a national grassroots property rights group working on eminent domain issues, came to Clarksville Thursday to participate in a rally prior to the city's public forum on the redevelopment plan held in the Burt School cafeteria on Thursday.
The rally featured Christina Walsh , Clarksville Property Rights Coalition Spokesman John Summers, Dan Brown of the Tennessee Preservation Trust and others. They addressed plan opponents and members of the press on the issues they perceive in the current version of Clarksville's Redevelopment Plan. Summers and Brown have been frequent speakers at CPRC meetings.
After the rally, the public forum began in the Burt School Cafeteria. with Mayor Piper making the first statement. The program continued with a presentation by Knoxville's KCDC President Alvin Nance, followed by Downtown District Partnership board member and recent appointee to the Clarksville Housing Authority Frank Lott. The presentation given was identical to the KCDC video on the "Our view: The updated redevelopment plan still has major flaws" article; watching that video provided all the same information as last night's forum.
Laws mean exactly what they say on paper; it does not matter what those who created it intended for it to say. What counts is in the actual letter of the law. Members of the City Council do not see any issues with the plan they approved, even though a common sense reading shows that this plan is faulty, open to major abuse, and was clearly intended to make it easier for developers to take private property from its owner and then profit from it. Mayor Piper and the council have denied that, but that is exactly how the currently plan reads.
Counting heads, the Fire Marshall allowed only 180 people inside the hall for the meeting, with another estimated 150 people turned away. [Editor's note: At the Train Station meeting in December, more than 300 people turned out to oppose this plan.] CPRC members provided a list of the names and addresses of people who were denied access to this public forum: page after page was full of names and addresses. «Read the rest of this article»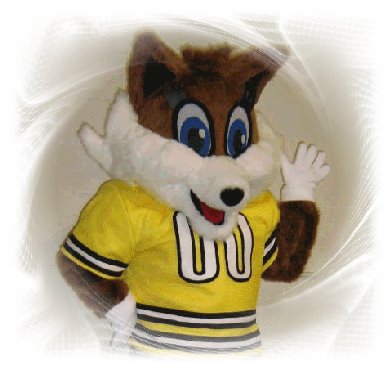 The Clarksville Fox would like to invite everyone in the Clarksville and Fort Campbell area community to come to The Clarksville Fox 2nd Annual Easter Egg Hunt. The Hunt will be held at Northwest High School, 800 Lafayette Rd., in Clarksville on March 22nd at 10:00 AM.
Easter Egg Hunts will be held for several different age groups, with candy and gifts for everyone. There will also be a special area with a special hunt for those special children with special needs.
The team mascot, Trixy (above left), will be there to help hunt for eggs, hand out autographed Trixy mascot cards to the children, and take pictures. Bring your family and friends and join Trixy and the all the Clarksville Fox Women Semi-Pro Full Contact Football Players for this event. «Read the rest of this article»
Are you raking up the dregs of last fall's foliage?
Or cleaning out the garden for spring planting?
Maybe collecting the small branches and twigs blown down in recent storms?
Or raking the grass clippings from that first bout of lawn mowing?
The City of Clarksville will offer a yard debris pick-up March 24-May 5. Citizens are asked to put the items that they would like to have picked-up close to the road.
Items to be removed must be in biodegradable paper bags or cardboard boxes. Yard debris is defined as normal yard waste such as grass clippings, leaves, limbs and etc. Tree limbs must be 4-foot in length or less. Tree limbs left from tree pruning by a commercial company will not be accepted.
If you have yard debris that you would like to have picked up, please call the Clarksville Street Department at 645-7464.