One writer's look at sales tax amnesty and reasons for NOT shopping tax free weekend …
Tennessee offers a back-to-school tax-free shopping weekend every year, a benefit to families with students heading back to school. It's happening this weekend, August 3-5. It's a potential benefit to everyone including businesses who want a break on clothing, school or office supplies, and computers. The extent of items liberated from taxation have some restrictions, but the boon is not limited just to families with school age children. Small and large businesses benefit as well from the tax breaks, either as buyers or sellers of merchandise. Because everybody, not just parents of school age children or college students, can save. Seems like a good idea. But what is the reality? «Read the rest of this article»
Tumble into The Looking Glass and let your senses savor its unique decor and often exotic cuisine.
| | |
| --- | --- |
| | |
This Warfield Boulevard restaurant is housed in a small modern plaza that could be Anywhere, USA, but that's this eatery's only resemblance to the rest of the region. Step inside The Looking Glass and whirl into the whimsical, a colorful kaleidescope of mismatched chairs of all shapes and sizes, unique tables, sheer tablecloths and eccentric dolls garnished with tulle and feathers perched on mini-columns, set and ready to eavesdrop on your conversation over dinner. Frosted ornaments spill from the ceilings in random patterns. One wall of glass with a quiet table for two is highlighted by a pair of stained glass hangings of lush wisteria; another is tucked beneath a wedding-like garland of illusion veiling and white ornaments. Hand-painted chairs with gentle messages grace still another table. A deep leather couch invites one to linger over morning coffee and pastry. It's craft and class pulled from a Lewis Carroll collection of magical stories.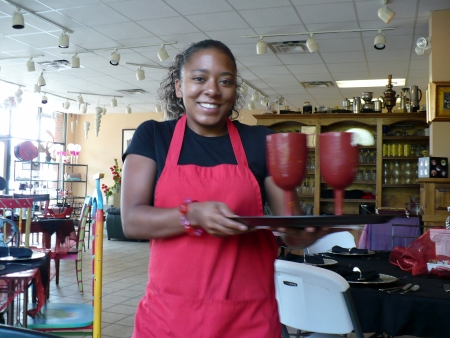 Our server Tiffyalena arrives with tall cool peach iced teas
My companion and I decided to sample a variety of foods. Our sweet and unsweet peach teas (mine with a slice of lemon) were rich and refreshing, the ultimate sip-able on a hot afternoon as we browsed the menu. Choices. Choices. We sampled "leftover" breakfast pizza squares that could easily have become dinner. We were both tempted by the asparagus soup, a creamy concoction served in a bowl on a plate surrounded by a dozen slices of the bread of our choice: sourdough slices for me, French bread for my companion. The soup was thick, hearty and delicious, but could have benefited from the inclusion of chucks of asparagus (so speaks the asparagus fiend). I can never get enough asparagus. «Read the rest of this article»

Good magazine put together a short video documentary showing how the Federal government allocates our tax dollars. It helps to highlight just how badly our national priorities are screwed up. We need to work together as a nation to refocus our government on its people, rather than the military industrial complex and the beneficiary corporations. If we can do that, this world will be a much better place.
The video is by Max Joseph, Erin Bosworth, and Ariel Shulman, with music by Tom Van Buskirk. «Read the rest of this article»
Clarksville, TN – It's true, sometimes you just want to go where everybody knows your name. That place for me, and for over 35 years many Clarksvillians and travelers, is none other than G's Pancake House Restaurants, Inc.  This restaurant chain is named after the late Eugene Sueiro and has two Clarksville locations and one in Oak Grove, Kentucky.
Many a newcomer to this military town has made G's Pancake House there first dining experience because of its location and proximity to the Fort Campbell, KY military base. But, once inside and settled, the staff and great food does the rest in making sure that you and your family become a mainstay and frequent return customer. «Read the rest of this article»

Needed: Blacks, Hispanics, disabled, deaf, low-income and the elderly to support the telecoms' positions on anti-consumer FCC rulings and legislation.

DEFINITIONS:
Astroturf—An organization set up by a large corporation or corporations to put forward the corporate agenda but to look like an authentic 'grass-roots' group.
Co-opted—An authentic group that is given funding by a large corporation or corporations, where the group lobbies for corporate initiatives even if they are contrary to the needs of its members.
Skunkworks—A well coordinated campaign funded by large corporations (or industries) that incorporates Astroturf and co-opted groups, research think tanks, PR firms, lobbying firms, state and federal politicians to put forward the corporate agenda on a specific topic.
Over the last few weeks numerous groups have been lobbying and hyping the corporate position of AT&T and Verizon for relaxed cable franchise requirements or to stop any net neutrality legislation. «Read the rest of this article»

Exotic flavors. The scent of spices. Vivid colors. Ambient lighting. This is the world of Tandoor, a world of fine cuisine prepared and served in the traditions of India.
Open Tandoor's elegantly carved doors and walk into another time and place, one where the recipes, the spices, and the process of cooking stands far removed from western culture. The key to cooking here is the tandoor oven, a stainless steel oven not unlike a pottery kiln, lined in clay, flames curling up the sides to cook the flat breads that line its sides and seasoned meats and seafood laced onto three-foot long skewers.
Owner Nasir Hakeem demonstrated the art of making appetizing breads in his tandoor oven. Pressing cheeses, nuts and spices into the dough, he kneads it briefly, rolls it out and, using a heavy black mitt, slaps the dough onto the clay side of the circular oven, where the flames below slowly crisp and bubble the bread. Crispy on the outside, creamy with melted chesses inside. Grilled meats are seasoned first, then strung on a skewer to cook and crisp up in the flames. The aromas and the taste are tantalizing and delicious. «Read the rest of this article»

The American Rare Collectibles Association is visiting Clarksville Tennessee for the first time from Tuesday February 20th to and Thursday February 22nd. The event is free and open to the public.
The show will beheld at the Quality Inn Downtown, 803 N 2nd St, Clarksville, Tennessee 37040. Take I-24 West to Exit 11, then take State Route 76 South 5 miles to Hotel.
Professionals from the association will come prepared to give some of the highest offers in the world for your collectables.
A fierce competition takes place for rare, desirable and mint items requested by museums and collectors with disposable income. Some of the sensational prices collectors are paying include: $7,000 for a 1952 Gibson guitar. $3,000 for a Gang of Five Robot from Japan, $2,500 for a rare Civil war sword, $1,125 for a keywind pocket watch, 6 Buddy L 1920s Trucks $11,450, $20,000 for an Edison phonograph & Victrola collection. Your item(s) may be worth more or less. «Read the rest of this article»

The Icehouse Cafe and Art X-Po present Fresh From the Line,
a Valentine's season group art exhibition.
All work is on or composed with undergarments… kInKy!

Opening reception will be held this Saturday, Feb 3 from 7-10PM

118 University Ave
Clarksville, TN 37040
www.icehousecafe.net

This exhibition features art from some of the region's premier artists including…
Charles Bennett
Maria Colomy
Beverly Dill
Nena Guinn
Brandt Hardin
Barbara Herrick
Olivia Molinaro
Erin Rainey
Jesse Shaw
Please join us for the opening reception tonight or catch the show during cafe hours throughout the month of February!
This and all Art X-Po events are absolutely FREE, ALL AGES, and OPEN to the PUBLIC!!!

Art X-Po and The Icehouse Cafe present Light & Soul, a group art exhibition.
No entry fee but a $1 donation is suggested.
All work must be framed or ready to hang.
Drop-off date will be 4-7PM Wednesday, December 6, 2006 at The Icehouse Cafe, 118 University Ave, Clarksville, TN.  Entries must be turned in at this time.
To make alternate arrangements, contact Brandt @ 931-220-4532.
Opening reception will be held 5-8PM Thursday, Dec 7 during Clarksville's Downtown Artwalk.  Exhibition will remain open througout the month of December and through the new year.  Free, All Ages, and Open to the Public!
I look forward to your participation!
Related Images:

"Light & Soul" group exhibition will be presented by Art X-Po and The Icehouse Cafe.
Show will open Thursday evening, Dec 7 during Clarksville's Downtown Artwalk between 5-8PM.  This will run throughout the month of December.
Deadline for entries is Dec 2.  Dropoffs can be made during business hours at The Icehouse Cafe (118 University Ave, Clarksville) or by contacting Brandt at (931) 220-4532.  No entry fee but a $1 donation is suggested for programs/flyers/hanging etc.  Work must be finished, original, and suitable for hanging (ie framed).
Related Images: