The Ice House Cafe located on University Boulevard between Michael's Pizza and the Burrito Bungalow, is without asking for anyone's approval, hanging political art on its walls. This is a dangerous thing in this day and age.
There will be a reception on Thursday, July 6, from 5 pm till it's finished.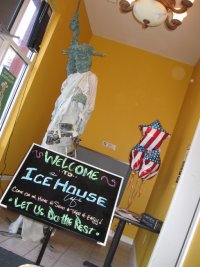 Upon entering, you will know that you are at the right place if Lady Liberty (knife in back) by me greets you as you walk thru the door.
Besides seeing great art, being in a place with an outstanding atmosphere, you will get to meet and chit chat with Chris Lugo, the Green Party canidate running for State Senate.
Come on by, it's safe, we promise!