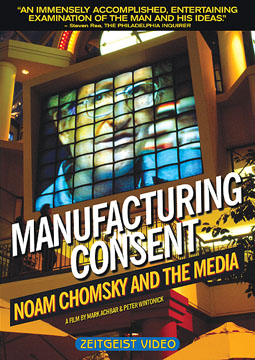 Funny, provocative and surprisingly accessible, "Manufacturing Consent: Noam Chomsky and the Media" explores the political life and ideas of Noam Chomsky, world-renowned linguist, intellectual and political activist. In a dynamic collage of new and original footage, biography, archival gems, imaginative graphics and outrageous illustrations, the film highlights Chomsky's probing analysis of mass media. A mammoth two-part project, MANUFACTURING CONSENT is nonetheless light on its feet, favoring a style that encourages viewers to question its own workings, as Chomsky himself encourages his listeners to extricate themselves from the "web of deceit" by undertaking a course of "intellectual self-defense." Appearing in the film are major journalists and critics, including Bill Moyers, William F. Buckley, Jr., Tom Wolfe, Peter Jennings, Jeff Greenfield, philosopher Michel Foucault, White House reporter Sarah McClendon, New York Times editorial writer Karl E. Meyer and revisionist author Robert Faurisson.
Manufacturing Consent features appearances by journalists Bill Moyers and Peter Jennings, pundit William F. Buckley Jr., novelist Tom Wolfe and philosopher Michel Foucault.


The film was honoured with 22 awards and distinctions, screened theatrically in 300 cities and aired on 30 national TV networks. The 2 hour-45 minute epic is the top-grossing feature documentary in Canadian history.
This documentary is available on DVD for 29.99. So go buy a copy!
Reviews
An invigorating introduction to one of the least soporific of American minds. – NEW YORK TIMES
Eye-opening, mind-expanding entertainment at its finest. A major achievement. – HOLLYWOOD REPORTER
Watch out for this film… it can make you think! – Ralph Nader
Memorable… invaluable -THE NATION
An immensely accomplished, entertaining examination of the man and his ideas -THE PHILADELPHIA INQUIRER 
DVD Features
Noam Chomsky reflects on the film
Extended excerpts from the 1969 Firing Line debate with William F. Buckley Jr.
Never-before-seen 1971 discussion with Michel Foucault
Filmmaker bios and production notes
Running time: 167 mins
Release Date: 1993
Rating: Not Rated
Running time: 167 mins
Aspect ratio: 1.33:1
About Zeitgeist films
Zeitgeist Films Ltd. was founded in 1988 by co-Presidents Nancy Gerstman and Emily Russo. From its beginning Zeitgeist Films has differentiated itself by focusing on the more discriminating and adventurous filmgoer, whose needs were not being met by traditional "arthouse" fare. Zeitgeist films are strongly auteur-driven and have a distinct visual style and unique content.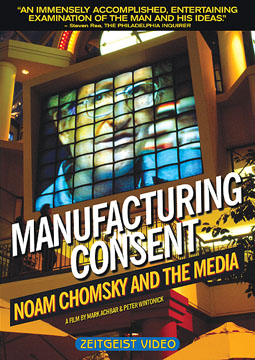 * Information on this video was taken from the Zeitgeist Films page for this movie.