In the following open letter, Clarksville City Judge Charles Smith responds to a recent decision by the City Council to cut the salary of the city judge by 60%. The decision does not affct Judge Smith's current term, but would be implemented for any Judge elected in the next election.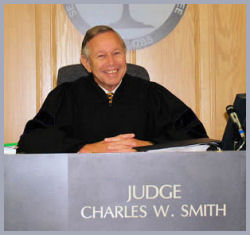 Dear Friend,
On June 26th, Councilman Wayne Harrison brought a motion before members of the Clarksville City Council to reduce compensation for the City Judge by almost 60% — returning the City Judge's salary to a level of compensation last awarded in 1988 –20 years ago. This action came as a surprise to many people, including the City Judge.  To support this move, Mr. Harrison provided the Council with an unlabelled document intended to show the amount of time required by the City Judge to discharge judicial duties, but actually showing only the hours spent formally hearing cases. 
Time spent on the bench – which forms the basis for Mr. Harrison's "study" – is no more reflective of the many hours spent discharging judicial responsibilities than would a similar report suggesting that City Council members only "work" when the Council meets for each session. Not included is the time spent on a nearly daily basis for review of citations, entering dispositions for default judgments, or reconsideration discussions with the City Court Clerk. It does not include time spent for legal research, order preparation, coordination with attorneys, police officers, Building & Code officials, legislative initiatives to benefit municipal courts, or other communication related to specific judicial responsibilities. 
Based on this incomplete, inaccurate, and hurriedly-presented information, 10 of the 12 City Council members voted to follow Mr. Harrison's recommendation and reduce the compensation accordingly. Only
Councilwoman Diana Ward and Councilman Marc Harris voted against it. Please consider these facts:
In 2004, the City Council reviewed judicial compensation for City Courts in nine other Tennessee cities. That exhaustive, impartial study examined salary, population, fringe benefits, frequency of court sessions, average hours in court, average hourly pay, number of citations issued, court costs, and numerous other elements related to the operation of CityCourt. Following that comprehensive study, the Clarksville City Council established compensation for the City Judge at $25,000 annually. The increased compensation still resulted in lower hourly compensation for the Clarksville City Judge than seven of the nine cities surveyed. Reducing the salary to the suggested level would put Clarksville's compensation below cities with far smaller populations and hours of operation, including
Columbia, Smithville, Lenoir City and Oliver Springs.
The City Judge creates virtually no overhead for the city of Clarksville, yet a recent study found that the Court produces significant monetary surplus. The judge personally employs and compensates his staff, pays rent for an office, pays for utilities, phones, computers/ internet service, fax, a law library and all other expenses related to non-court judicial responsibilities. The City Judge must be prepared to hear scheduled cases each time the court convenes, whether it be one case or 150. Due to the unknown numbers of cases to be heard each day, time spent in private legal practice is compromised and appointments must frequently be rescheduled.
The City Judge is the only elected position that has specific professional requirements to qualify for election. The judge must possess a Doctoral degree in law (Doctor of Jurisprudence), must have passed the Bar Examination, and must maintain a valid law license.
I believe the recent vote to reduce compensation is politically-motivated and based on inaccurate, misleading, and incomplete information. I would welcome an independent, comprehensive and analytical study of judicial compensation, and am in the process of informing Council members of these facts. Their decision does not impact me personally during my current term in office, and will only negatively affect the individual who is elected City Judge in November 2008.
But one voice is not enough. If you agree that further objective review is needed before this important decision is made, please contact as many City Council members as possible prior to the second and final vote on July 1. Respectfully urge them to reconsider.  If you cannot contact Council members in person or by phone, emails may prove to be helpful. Either way, direct citizen communication is important,
and immediate action is necessary.
If you have questions or concerns at any time, please feel free to contact me at (931) 624.9200 or by reply by email at your earliest convenience.
Thank you, in advance, for your considerationand support.
Charles W. Smith City Judge