Dover, Tennessee — Collectors and amateur historians alike will enjoy a weekend of Civil War naval and army artifacts and replica gunboats. The Army-Navy Exhibit returns to Fort Donelson National Battlefield, July 4-6.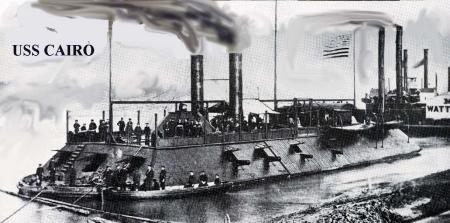 Kraig Lawson and Jack Barnhart, owners of the collection, will display their collection in the Visitor Center, located on Hwy 79 in Dover. This exhibit contains personal items from U.S. soldiers, army and navy uniforms, and relics from the ironclad the USS Cairo (recovered in 1963). Lawson will also display one of his replica model ironclad gunboats, which take approximately 3-5 years to construct.
Lawson and Barnhart, both from Ohio, have been life-long Civil War enthusiasts. Both men were part of the 35th Ohio Infantry re-enactor group, and have been "extras" in mini-series like "The North and the South," "The Blue and the Gray," and even the motion picture film, "Glory."
They have collected Civil War artifacts for at least 25 years and created the Army-Navy Exhibit to share their enthusiasm and knowledge with others. The exhibit will be located in the visitor center on Friday, July 4th, 9 am – 4 pm, Saturday, July 5th Noon—7 pm, and Sunday, July 6th, 9 am—3 pm. The program is free.
Fort Donelson National Battlefield preserves the site of the 1862 battles of Forts Henry, Heiman, and Donelson, including the earthen fort, defenses, surrender site, and national cemetery. For additional information about this program, contact William Bazar at 931-232-5706 x102.