"The Name Says It All!" …Joe Nazar , owner/operator, NYPD
No conveyor belt oven here! Fresh ingredients, dough and sauce are made fresh in-store, hand tossed and baked daily in a brick oven to insure that authentic New York City pizzeria taste. Posters depict views of the legendary Gotham City  including the Empire State Building, the NYC skyline at night, Lady Liberty, the World Trade Center Towers, New York harbor and of course, pizza by the slice! Add a lively Italian personality in the kitchen, and all these things  mark New York Pizza Depot on Fort Campbell Boulevard as outside the cookie-cutter pizza chain operation.
Joe Nazar owns this unique eatery and is totally committed to keeping his Italian family heritage in New York style pizza. A lively, trim man of rapid fire speech and continuous declarations, "this is real pizza being served here," Joe is a friendly force that makes everyone welcome. He lets his pies win over the newbie and reward those seeking the familiar taste of the New York original.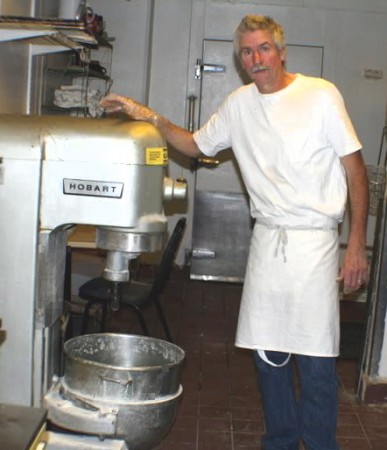 As noted above, Joe is proud of his fresh ingredients standard. There is no trucked-in frozen dough, sauce or meats. All toppings are prepared daily and stored in the cooler for daily use. He makes the pizza dough fresh, by hand, daily, letting the dough mounds rise overnight on trays in the cooler. He is completely at home in his kitchen, and proudly showed off his industrial mixer which in four years, has prepared over 3,000 batches of pizza dough. As Joe remarked, "That's a lot of flour, my friend!"
The rich aromas of Italian sausage, pepperoni, Italian meatballs, garlic, oregano all entice the nasal passages and taste buds. Joe notes that his brick oven was specially ordered from New York City. He describes the benefit of brick oven baking as the cooking process that allows the dough's natural sugars to carmalize, adding a distinct flavor and texture to the dough, actually baking the dough rather than just browning it, as happens in conveyor ovens of the chain operations.
NYPD offers four basic types of pies. Eighteen inch round pies, Sicilian thick square crust, Calzone and Stromboli specialties head up the menus. House pie specialties include the Plain, the Everything Pie, the 4+ More Topping, the NYPD, New York's Finest, American Pie and the White Pizza. Of course, that New York City phenomenon of ordering pizza by the slice provides another slate of ordering possibilities.
An additional house specialty is the Garlic Knots; don't fear these taste treats. Novices are reminded that when roasted, garlic takes on a warm, nutty taste, losing its usual pungent, sharp taste. Garlic wrapped in a pizza dough ball, dipped in garlic butter and baked until crisp and tender, these are tasty treasures to be savored fresh from the oven. Buffalo Wings and Cheese Dippers round out the menu offerings.
Joe is very proud of his connection with the community and especially our soldiers, their families and Fort Campbell. He says they once received an email from Iraq asking if NYPD would mail a slice. While that's a bit outside their range, they do offer delivery to a limited area consisting of Ft. Campbell, Oak Grove and limited Clarksville area. There is a $10.00 minimum.
This writer ordered a round pie with Italian sausage, mushrooms, garlic and banana peppers. The aroma as the pie was brought to our table was absolutely Italian! The sauce is rich and zesty and perfectly complements the sweet and savory Italian sausage and mushrooms. Let it be known, this pie satisfies!
Dine in, take out or limited delivery, pick one and give NYPD, New York Pizza Depot a try and discover the uniqueness of this special pizza. This New York original will astound you!
The New York Pizza Depot is located at 3297 Ft. Campbell Blvd, in North Clarksville. Their phone number is  931-431-6973.