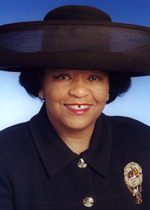 Tennessee State Senator Thelma Harper will be the featured guest speaker at a fund raising and organizational event for Tim Barnes, Democratic candidate for State Senate, District 22.
The event is scheduled for this Thursday July 17, 2008 at the First Missionary Baptist Church Immanuel Family Life Center 303 Fairview Lane Clarksville, Tennessee starting at 6:00 pm.
Senator Harper is considered one of the most powerful senators to represent the state of TN. State Senator Thelma Harper, has for many years been a prominent and highly influential figure in the political, social, and civic lives of many.
She has served in the Tennessee State Senate for fourteen years and is the first African American female ever elected to the Tennessee State Senate.
State Senator Thelma Harper serves as Chair of the Senate Government Operations Committee; in addition she serves as the Vice Chair of the State and Local Government Committee; member of the Select Committee on Children and Youth; member of the Corrections Oversight Committee; member of the Veterans Affairs Oversight Committee; President of the Tennessee Women's Suffrage Commission; Vice Chair of the Tennessee Black Health care Commission; a member of the Tennessee Economic Council on Women; member of the Tennessee Sports Hall of Fame Board of Directors and Member of the Nashville Alumnae Chapter of Delta Sigma Theta Sorority, Inc.
State Senator Beverly Marrero is also scheduled to attend along with several prominent democratic elected officials and Democratic Party leaders.
For more information please contact Kim Smith Campaign Manager for Tim Barnes for senate at Phone: (931) 648-9400 or (931) 801-4821 Email: