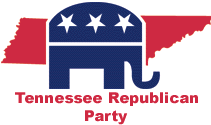 As the USA enters the home stretch of the presidential campaign, the Montgomery County Republican Party has a variety of McCain/Palin yard signs, bumper stickers and buttons available at their headquarters at 1820 B Madison Street, in Clarksville. A spokesperson for the party said the local headquarters also carries campaign hats, and T-shirts for McCain/Palin as well as Women for Palin.
Halfway through the four debates of this campaign, which overlaps the largest fiscal crisis in the country since the Great Depression, the campaigns are heating up, readying for the remaining two debates:
October 7: Presidential Debate  at Belmont University in Nashville, moderated by NBC's Tom Brokaw
October 15: Presidential Debate at Hofstra University in Hempstead, New York, moderated by CBS's Bob Schieffer
The Republican headquarters is open Monday through Friday from 9 a.m. to 7 p.m, and Saturdays from 9 a.m. to 3 p.m. The office is closed on Sunday. To contact the Republican Party, call 931-647-4477.