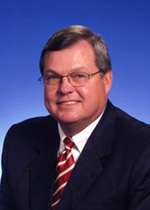 State Representative Curtis Johnson (R-Clarksville) has been appointed as Chairman of the House Republican Caucus Task Force on Budget and Economic Development.  The appointment was announced today by House Republican Caucus Chairman Glen Casada.
"Representative Johnson was an ideal choice for this group," said Rep. Casada.  "Being from Clarksville, he understands the importance of economic development, as evidenced through his role in the Hemlock project. I am confident that he will lead the group effectively and assist in crafting solutions."
The House Republican Caucus leadership appointed and announced the formation of their Caucus Task Forces this week. The task forces are charged with developing policy ideas and legislation around conservative ideals, and to assist all caucus members with information on specific issues.
"I am very honored to serve on this committee because I believe economic development has one of the greatest impacts on the lives of everyday Tennesseans," stated Rep. Johnson.  "I was very honored to be a part of bringing Hemlock Semiconductor Corporation to Clarksville, and I am already seeing the positive things that are happening because of that project. I look forward to crafting more policy with this group that will achieve similar ends for the rest of the state."
Representative Johnson serves the 68th District in the Tennessee House of Representatives.  His district includes part of Montgomery County, and is serving his third term in the legislature.