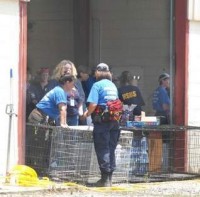 We have an opportunity to stop puppy mills in Tennessee. Currently before the Tennessee Senate is the Commercial Breeder Act (HB0386/SB258). Please voice your support to Montgomery County State Senator Tim Barnes.
We need to make our voices heard. We cannot continue to see Puppy Mill after Puppy Mill raided on the TV news. We must urge our State Legislators to support this Bill. Please highlight in your emails and telephone calls that Puppy Mills trade in domestic animals and currently have little if any regulation. There have been several puppy mill busts recently and it is time as a community to make a stand against this. It is expensive to the state; to the residents and obviously dangerous and harmful to the animals.
Commercial Breeder Act HB0386/SB258
To regulate puppy mills and protect consumers
Protects consumers from "puppy mills" that mass produce unhealthy and diseased animals, a growing problem in TN. With approximately 400-500 puppy mills operating in Tennessee, it is estimated to be a $35 million/ year industry which is currently unregulated.
A "commercial breeder" is defined as: any person who possesses and/or maintains twenty (20) or more unsterilized adult female dogs for the purpose of the sale of their offspring as companion animals;
Does not affect hunters, hunt clubs, most hobby or show breeders, rescues, shelters, veterinarians, trainers, handlers or other private individuals.
Bill language was created in collaboration with TN Department of Agriculture, TN Attorney General's office, the Division of Consumer Affairs, and hobby/show breeders who are leaders in the Nashville Kennel Club.
Program will be administered by the Department of Ag. The commissioner will promulgate rules regarding standards for housing and care based on existing USDA standards for wholesalers.
Senator Barnes Response
Even though Sen Barnes has indicated that he will vote for the bill, your phone calls and e-mails are still needed so he knows that Montgomery County is strongly against Puppy Mills.
Thank you for your email about SB 258. I am in support of this bill and I believe that commercial breeders should be regulated. Currently this bill has been referred to the Senate Finance, Ways & Means Committee. From there it will go to the Senate floor for consideration.

Again, thank you for your email. Call or email anytime you would like an update on this or any bill.

Sincerely,
Tim Barnes
State Senator, 22nd District
Contact Senator Barnes
Email:
Address: 305 War Memorial Bldg. Nashville, TN 37243
Phone: (615) 741-2374
About Precious Friends
Precious Friends is an Puppy Rescue & Adoption service located in Clarksville, Tennessee.
For more information contact Jessica Sanford at 931-552-0622