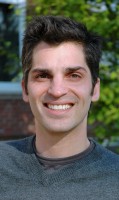 Blas Falconer, a professor at Austin Peay State University, has been named a recipient of the Maureen Egan Writers Exchange Award, according to Poets and Writers magazine.
Falconer, along with fellow Tennessee fiction writer, Jeanne McDonald, were selected for the award.
The Maureen Egan Writers Exchange Award gives emerging writers the opportunity to interact with the literary community in New York City. Writers of poetry and fiction are annually chosen from one state to participate in the competition. To be eligible, writers must not have more than one full-length book in publication.
Since its inception in 1984, 78 writers from 31 states have received the award. Many recipients have gone on to receive other awards, teaching positions and publishing contracts.
Falconer earned his Ph.D. in creative writing and literature at the University of Houston and has taught at APSU since 2003. Falconer has won numerous honors and is the author of "A Question of Gravity and Light," a collection of poems published by the University of Arizona Press in 2007.