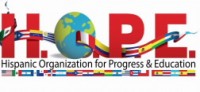 On June 5th Nashville Artist Jorge A. Yances came to Clarksville to work with the children at the Hispanic Organization for Progress & Education (H.O.P.E.)  to create a mural for their first annual Create, Paint, and Express Yourself youth summer program. The mural was put on display at the Clarksville-Montgomery County Public Library yesterday, and will remain there until the end of the month.
The purpose of this program is to give children another outlet to express themselves instead of getting into trouble through boredom. The art portion of program was funded in part by a grant from the Clarksville Arts & Heritage Development Council, along with sponsorships by AmeriChoice & Jerry's Artarama.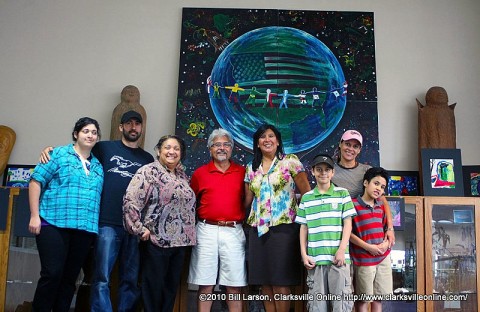 Largely self-taught Yances has been painting since he was a young boy.  "When I was young I had an aunt who really took care of us, and taught us the different ways of painting, and that's what I try to show the kids." He worked with  around 50 children of various ages to create a mural to represent their dream of cultural unity in America.
"I was suprised to see that kids of 7/8/10 year olds could do something so fast. Once you let them do whatever they want to do, they can really come out  with good things.", he said,  "The vision was to have the world with the United States at the center with all the kids coming from different countries, backgrounds, and cultures; for us the United States is the center of the world".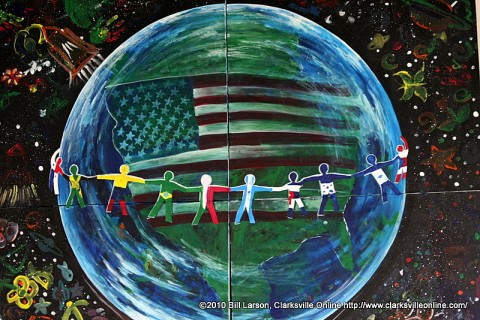 Photo Gallery
About Jorge A. Yances
Jorge A. Yances was born in Cartagena de Indias, Colombia, and he has been living in the United States since the age of thirteen when his family moved from his native country.  His interest in art has been a constant in his life when at seven years old  he started experiencing with different techniques in painting.  While in school his teachers saw his potential and encouraged him to pursue his dream of becoming an artist.  Upon finishing high school, Yances began working with Lyson Gallery in Nashville, Tennessee as an assistant to Streingfield and Paul Lancaster, a well-known sculptor and a fine artist, respectively. Under the tutelage, Yances learned techniques for carving in the wood and etching in Plexiglas. Since then, Yances continued studying on his own developing a unique style and passion for colors, forms and shadows.
In 1974 he won the Medal of Bronze, a prestigious award given by the Grumbacher Company. At that time, his career started to escalate as he was named artist in residence at the Cruciana & Rosler Gallery in Orlando, Florida where he participated in a number of noteworthy projects.
Yances' work is a fusion of reality and fantasy. It transports the viewer beyond the tangible world into the hidden essence of life that walks hand in hand with reality. Each piece of Yances' art is a window into an enchanted universe. As the viewer travels along a visual pathway that bridges one reality to another, they become convinced that there is only a thin line between the factual and visionary. Yances artwork allows anyone to transcend those boundaries.
Jorge Yances has exhibited his work in galleries throughout the United States and Colombia.  In his recent work, "Cartagena Memories" he recreates the beauty of his native land with a journey through the past. In this collection, the artist goes beyond the narrow streets of this colonial city, weaving the native people and their basic elements of life with the unique style that characterizes his work.  This vision of man and circumstances intertwined in each piece of his art puts him among one of the clear exponents of the movement known as "Magic Realism".
He has exhibited at:
The Parthenon, Nashville, TN 2010
Museo Historico de Catagena Columbia, 2009
FireHall Art Gallery, Franklin TN, 2007
Cheekwood Botanical Gardens, Nashville TN, 2007
Palette Gallery, Nashville TN, 2007
Hilton Gallery, Cartagena, Colombia, 2006
Cheekwood Botanical Garden, Nashville TN, 2006
Personal Preference Galleries, Chicago IL, 2003
JB ART, Chicago IL, 2002
Personal Preference Galleries, Chicago IL, 2001
JB ART Galleries, Washington DC, 1997
Jameson Galleries, Benton Harbor MI, 1995
Art Finds Galleries, Fort Lauderdale FL, 1993
Jameson Galleries, Benton Harbor MI, 1991
His Exhibit at the Parthenon is still ongoing, and will continue until the end of the month.