Carrie Burggraf, Austin Peay State University's much-decorated record-setting pole vault student-athlete, has earned yet another award. Burggraf has been named first-team ESPN The Magazine Academic All-America® in Women's Track and Field and Cross Country, as selected by the College Sports Information Directors of America (CoSIDA).
Burggraf becomes Austin Peay's first first-team Academic All-America selection since Jordan Richardson was named first-team Academic All-America in 2005. Burggraf was named second-team Academic All-America a year ago.
In addition, Lady Govs cross country and track distance performer Shamai Larsen was second-team Academic All-America.
It is the first time Austin Peay has ever had two athletes named to a respective Academic All-America first and second team. In 1993, Bryan Link (second) and Kevin Smith (third team) earned baseball Academic All-America.
First-team Academic All-America concludes a long list of awards Burggraf achieved at APSU. A Political Science and History major with a perfect 4.00 grade-point average, Burggraf was awarded an NCAA Postgraduate Scholarship as she will continue her studies in human rights at the University of Pittsburgh.
Recently, she became the first Ohio Valley Conference student-athlete to become a two-time winner of the Steve Hamilton Award, which is based on athletics performance, good sportsmanship and citizenship.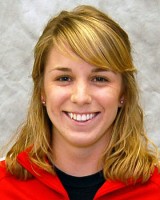 She was named as recipient of the Female Student-Athlete of the Year Award at the Student Organization and Leader Awards. An OVC Medal of Honor recipient and Commissioner's Honor Roll selection each year, she is a two-time United States Track and Field and Cross Country Coaches Association (USTFCCCA) All-Academic selection.
She won six OVC titles in her career, shattering her own OVC Championship record in the pole vault. She qualified for the NCAA Regional for a third consecutive season.
A native of Marion, Ohio, she earned the John Burgess Awards as Austin Peay's top graduating Political Science major. Burggraf also has been chosen as the OVC's nominee for the NCAA Woman of the Year.  In April, she was voted as the Legend's Award recipient as the most valuable senior athlete while sharing the Female Scholar-Athlete of the Year and the Perkins Freeman Governors Club Academic Achievement Award.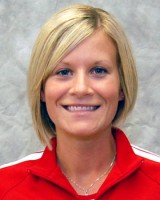 Larsen, who owned a 4.00 GPA as a Health and Human Performance major, was one of those student-athletes who shared both the Scholar-Athlete and Perkins Freeman Awards with Burggraf. She literally walked into the APSU athletics front. A former prep volleyball player in Dillingham, Alaska, she was spotted running in a local road race and was recruited by APSU coach Doug Molnar to join the team.
Back in the fall, Larsen received the Legion of Valor Bronze Cross of Achievement (one of eight recipients among the 4700 seniors in Army ROTC across the nation).  In April, she also was honored with the Pallas Athene Award, presented to the top two female senior Army ROTC Cadets annually (one east of the Mississippi, one west) for overall excellence (academic, military, athletic, extracurricular) as an Army ROTC Cadet and college student.
Also in April, Larsen received the Megenthall Award, bestowed to a graduating APSU senior for outstanding performance as a student plus bringing recognition to the university through his or her achievements and service.
She was also was recognized with the George C. Marshall Award, provided to the top senior at each school with Army ROTC. It recognizes overall outstanding performance in Army ROTC (academics, Warrior Forge, ROTC extracurricular activities).
Last summer, Larsen received the RECONDO Award following her summer training all Army ROTC juniors undergo at Fort Lewis, Wash.   A Cadet must score 90 percent or better in the Army Physical Fitness Test (APFT), land navigation (written, day, and night), and be rated as Satisfactory or Excellent in his/her six evaluated leadership positions. 
At APSU's May Commencement ceremonies, Larsen was commissioned a second lieutenant in the Army.