by U.S. Army 1st Lt. R.J. Peek 3rd Battalion, 187th Infantry Regiment

Pakitik Province, Afghanistan – Afghan National Security Forces and Soldiers with Company A, 3rd Battalion, 187th Infantry Regiment, conducted an operation to disrupt an insurgent hiding cell in Janubi Nakum village, Yahya Khel district, Paktika province, June 27th-28th. 
The village of Janubi Nakum is a safe haven for insurgents of roughly 15 fighters, who have harassed the Yahya Khel bazaar and district center for several months.
The combined security forces identified two insurgents riding on a motorcycle with a rocket propelled grenade.  Combined forces initiated contact, eliminating one of the insurgents and wounding another, said U.S. Army Capt. Josh Powers, commander of Company A, from Atlanta.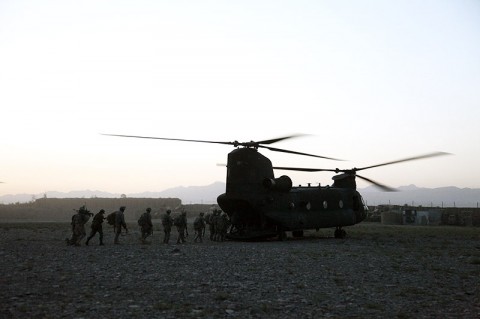 Upon inspection of the motorcycle, combined forces captured an AK-47, RPG rounds, hand grenades and improvised explosive device materials.
"The operation was extremely successful.  We captured three key weapon systems that the insurgents have used against us," Powers said. "We hope this mission will enable Janubi Nakum to shake free of enemy influence and be able to pursue development through the Afghan government."
As the patrol continued, security forces identified two additional insurgents on a motorcycle.  Attack helicopters engaged both insurgents and recovered a PKM medium machine gun, an AK-47 and a pistol. 
That night, a patrol of Afghan National Army Soldiers discovered an 82-mm mortar tube and confiscated the weapon.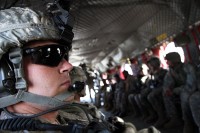 "Finding that mortar tube is one of the best finds for this area," said U.S. Army Pfc. Jonathon Billiter, a mortarman with Company A, from Houston. "It will greatly disrupt the insurgents' efforts, and personally will help me sleep better at night."
All of the confiscated equipment and new information will be used to assist in executing future operations against the insurgents to secure the area in and around Janubi Nakum, Powers said.
"This was a great success for the men," said ANA Capt. Mohammed Arif, the commander for 1st Kandak, 2nd Battalion, 203rd Brigade in Yahya Khel district. 
"It was important for the guys to find and capture the mortar."