Written by U.S. Army Pfc. Chris McKenna 3rd Brigade Combat Team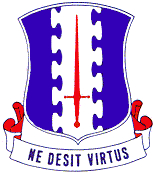 Khost Province, Afghanistan – Combined forces with the 3rd Brigade Combat Team's Focused Tactical Force conducted an air assault operation into Bak, Khost Province, Afghanistan, July 7th.
The FTF combines U.S. Army Soldiers, Afghan National Army Soldiers, Afghan National Policemen, civilian Law Enforcement Professionals, Explosive Ordnance Disposal experts, a Multi-Functional Team and psychological operations Soldiers.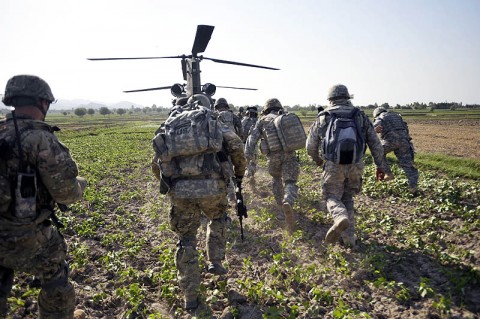 The mission resulted in the detention of four suspected insurgents, including one thought to be a key member of the Haqqani Network, according to U.S. Army Sgt. 1st Class Amos Sward, FTF platoon sergeant, Headquarters and Headquarters Battery, 3rd Battalion, 320th Field Artillery Regiment, from Galesburg, IL.
"Finding [him] will hinder the Haqqanni Network's ability to fund their offensive," Sward said.
While the ANA have always been a part of the FTF, the ANP have only recently been added, with this being the first mission with the group.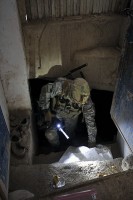 "Now that we have the ANP I think it is going to help due to the fact that these guys go to jail when they go back," Sward said. "The Army is not police, so having the police here is going to help be able to prosecute these guys."
Besides detaining four suspected insurgents, the FTF also confiscated a sizable weapons cache including one improvised explosive device detonator, four timers, three switches, 20 ft. of copper wire, a shotgun, a pistol, various ANA uniforms and two AK-47 magazines.
"We accomplished what we set out to accomplish making this mission an overall combined success," said ANP Capt. Asmat (one name only), Operations Company commander.
Additional Photos