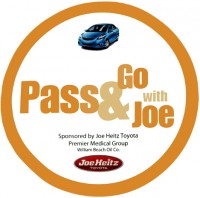 On Saturday afternoon 281 hopeful students gathered at the Joe Heitz Toyota dealership to take part in the Joe Heitz Pass & Go Celebration, a unique event held by the Clarksville-Montgomery County School system and the Education Foundation in partnership with area businesses.
Students who passed their Advanced Placement exams with a score of 3, 4, or 5 received the chance to win a 2010 White Toyota Yaris Sedan from Joe Heitz Toyota; one of 12 Dell Latitude Netbooks from Premier Medical Group; and William Beach from Beach Oil Company provided 25 gas cards.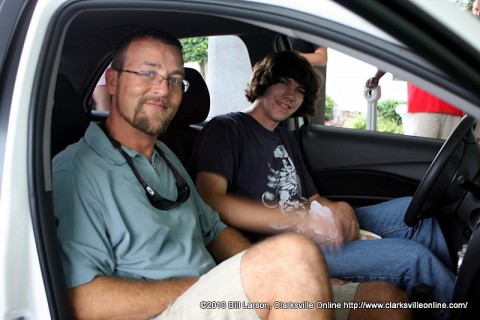 Mike Harris, Director of Schools said, "I am thankful that we have so many businesses and individuals in our community who are willing to help us recognize students for their hard work and also support our district programs. Without the support of the community, we would not be able to provide incentives like these. Our goal is to reward the hard work that each student put into passing the AP test, by giving them a shot at winning the new car." he continued "The school system has seen increased student participation and rising AP test pass rates since the start of the Pass and Go event"
CMCSS Spokeswoman Elise Shelton, said "The event was delayed by about two weeks as a result of the May 2010 flooding. This resulted in some of the students being represented by their parents because they had already departed for college."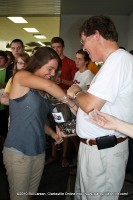 Each of the students took turns drawing one key for every AP course that they took and passed; from a jar full of keys held by CMCSS Director of Schools Mike Harris. Out of the 281 keys in the jar, twelve would unlock the door to the car. Then those twelve lucky finalists drew another key, and one cranked the engine. Only 40% of all students taking the advanced placement tests passed it.
Once the students tried to unlock the door to the car, they proceeded inside where they were given a USB flash drive from Premier Medical group that was used to see if they had won one of the Dell laptops. Even if they didn't win a laptop, they got to keep the flash drive.
Joe Heitz Toyota has made a five year commitment to supporting the Pass and Go event. The Dealership not only provided the venue, but also provided T-shirts and cold drinks for the attendees at the hot and muggy event.
The winner of the 2010 Toyota Yaris from Joe Heitz Toyota was 18 year old John Sims-Jones who recently graduated from Montgomery Central High School. John will be attending Vanderbilt University this fall studying Anthropology.
John's Parents were on hand to see him win. When showed the photo of their son winning the car, and they commented "He usually never smiles." Well on that day he had a good reason to!
The other eleven finalists were:
Alexandera Schlauch, Kenwood High School
Jason Giaffro, Rossview High School
Larsyn Stacey, Clarksville High School
Sierra Dolwick, Northwest High School
Emily Englehardt, Clarksville High School
David Bosanko, Northwest High School
Elodye Kruk, Northwest High School
Beth Heis, Clarksville High School
Ashley Leslie, Northwest High School
Laura Klatt, Kenwood High School
Last year, the winner was Nina Rogers, a Northeast High student.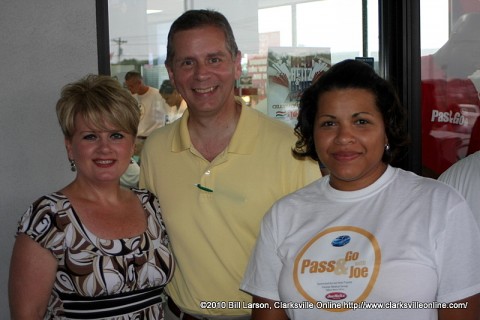 The Twelve finalists for one of the Premier Medical Group's laptops were:
Brian Goggin, Northeast High School
Ryan McCrary, Montgomery Central High School
Caitlin Hayes,  Northwest High School
Rebeccaa Rouse, Clarksville High School
Shawn Thomas, Clarksville High School
Victoria Hunter, Rossview High School
Sam Hyatt, Montgomery Central High School
Chase Snow, Clarksville High School
Yusuf Yunis, Rossview High School
Ashley Leslie,  Northwest High School
Rebecca Navarre, Clarksville High School
Justin Smith, Rossview High School
Northwest Highschool student Ashley Leslie was a finalist for the Car, and also won one of the twelve laptops.
Photo Gallery