Written by Army Sgt. 1st Class Andrew A. Reagan 304th Public Affairs Detachment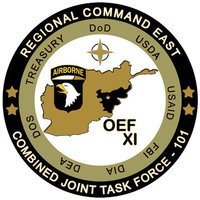 Bagram Airfield, Afghanistan – The Regional Support Command-East team, comprised of 254 Soldiers, Sailors, Airmen and Marines, provides direct support and operational coordination for the Afghan National Army and Afghan National Police in all 14 provinces in Regional Command-East. RSC-E is committed to creating capable and sustainable ANA and ANP forces in eastern Afghanistan.
"Our mission is to field, equip, train and sustain the Afghan National Security Force," said U.S. Army Col. Ronald J. Metternich, RSC-E commander and a native of Reno, NV. "We provide training and resource support to the 201st and 203rd Afghan Army Corps, the 202nd and 505th [Afghan National] Police Commands, and the 1st and 2nd Zones of the Afghan Border Police, as well as oversight to eight regional police academies and two regional military training centers."
RSC-E has trained and equipped more than 7,600 police recruits and 5,300 army recruits since its creation in September 2009. The mission of training and sustaining both the ANA and the ANP brings with it separate circumstances and challenges.
Training the ANA
The two Regional Military Training Centers in RC-East that the RSC-E team oversees provide different types of training. The RMTC at Camp Parsa in Khost province is the home of a Regional Basic Warrior Training site, where ANA recruits spend eight weeks learning basic military skills, including rifle marksmanship, medical skills and squad and platoon level tactics.
The other RMTC is located at Forward Operating Base Lightning, near Gardez, Paktya province, and is the site of a noncommissioned officer academy, as well as NATO weapons, literacy and up-armor humvee courses.
According to U.S. Army Capt. Steven Seber, commander for Delta Company, 2nd Battalion, 22nd Infantry Regiment, which oversees the RBWT site in Khost, ANA Soldiers have made noticeable progress in terms of their comprehension of basic military skills.
"There's been huge improvements across the board. At our Basic Warrior Training site in Khost, their [M16 rifle] qualifications were under 10 percent when we first got them, and now we have them above 95 percent," said Seber, a native of Carl Junction, MO. "Our guys are doing an outstanding job out there. They've overcome a lot of challenges and they've developed very good relationships with their counterparts. I think they've been very effective."
Although the RBWT course and advanced skills courses are currently at different bases, Seber said RSC-E plans to facilitate the consolidation of the two sites at FOB Lightning, allowing the ANA to have better command and control over the training of its soldiers.
"Every corps in the Afghan Army has or will have an RMTC paired with it," Seber said. "The long term plan is to provide the training for each corps, both for basic training and NCO training, [at one site] generally located with the corps headquarters. The end state [for RC-East] is RWBC and RMTC both located in Gardez."
As the location of ANA training sites in RC-East are currently in transition, the way the training is conducted is also in a state of flux. The RSC-E team has focused on preparing Afghan trainers to take full control of ANA training from coalition forces.
"Our long-term goal and our planning with every cycle is to step further and further back, where in the end we're just watching the ANA train their own students and we give them feedback," said Seber. "We want to work ourselves out of a job. We want them to be proficient enough where they can conduct all of the training without us."
Training the ANP: A threefold mission
The ANP is composed of three branches: the Afghan Uniform Police, the Afghan Border Police and the Afghan National Civil Order Police. Each branch has a different mission and thus the officers go through different training.
Afghan Uniform Police
"The Afghan Uniform Police is who you would most commonly associate with 'the cop on the beat,' the individual you see on the street corner, manning a small checkpoint in town and responding to crime," said U.S. Army Maj. Bradley Waite, the ANP team chief for RSC-E and a native of Eldon, MO.
The AUP is the largest of the three branches, and six of the eight ANP training centers that RSC-E oversees are dedicated to training AUP officers. Basic training for AUP is six weeks long and includes weapons training, instruction on the proper ways to detain a suspect and conduct searches, ethics and rule of law training, and drills on how to move under fire. Waite placed special emphasis on the rule of law and ethics training.
"We focus a lot on ethics and rule of law. We're trying to instill a feeling of professionalism, that there are certain things that are just not acceptable. Our goal is to start from scratch here so that there are no gray areas," he said.
As the "cops on the beat" the AUP are the police officers that the Afghan people will have the most contact with, and Waite stressed how important their training is, so they can effectively patrol and protect Afghans at the lowest level.
"We realize it is only with security at the local level that we will be able to effectively change Afghanistan's course. It's nice to have Army units everywhere but the bottom line is that in a counterinsurgency, you win or lose by how effective your police are," Waite said.
Afghan Border Police
The ABP receive specialized training at their training facility at FOB Lone Star in Nangarhar province in order to accomplish their mission of protecting Afghanistan's borders from insurgents and anyone else trying to enter or exit illegally.
"The ABP receive more specialized training both in running checkpoints and conducting in-depth searches. They also have more heavy weapons training," said Waite. "The border areas are more kinetic than other areas and they routinely take larger caliber fire from neighboring countries because the enemy understands it's easier to fire with impunity and then escape more rapidly into a country where we won't pursue, so the border police are generally given heavier weapons to help them."
Waite went on to elaborate on the type of weapons and equipment that RSC-E helps the ABP acquire to help it achieve its mission on the border.
"There is an initiative underway to provide them with mortars because they are coming under a lot of indirect fire," Waite said. "We also focus on [providing them] patrolling type equipment — global position systems and binoculars — things you don't usually see a cop on the beat with but are critical to someone who's trying to move along a very rugged border. Some of the terrain out there is extremely difficult."
Afghan National Civil Order Police
The ANCOP is a small, highly specialized unit within the ANP and is structured at a higher level compared to the AUP.
"Their role is more along the lines of riot police. They're organized more like an army unit; they're actually in kandaks, which is a term most commonly associated with the army," said Waite. "They are a national-level asset. I can take a kandak unit from Nangarhar province and I can send them down to Helmand tomorrow, which you cannot do with normal Uniform Police, which are out of local districts."
The ANCOP initial training is 16 weeks, and the first ANCOP class trained in RC-East will graduate at the end of September or early October at RTC Metherlan in Laghman province. The criteria for entry into the ANCOP are more selective than the other two branches of the ANP, requiring a higher degree of literacy. The training is also more intense, focusing on large-formation tactical movements in both urban and rural environments.
Building the ANP for the future
Similar to the way the RSC-E team has groomed ANA trainers to take over from Coalition Forces, Waite said the goal of his work with the ANP is also to train Afghan instructors to train their countrymen.
"The focus at all these sites is Afghan instructors. There are very few times when a U.S. or Coalition [servicemember] physically conducts the training. We assist by partnering with and mentoring the cadre of the school," said Waite. "The sooner I can turn over a site to the Afghans, the happier I will be because it means we were successful and the U.S military can begin to remove itself from this position."
Putting it all together
The overall goal the members of RSC-E strive for is to help both the ANA and ANP stand on their own and protect the Afghan people for years to come.
"Everyone here on the Afghan National Security Force side is making progress. For someone that's just sitting on the ground they may not necessarily see that progress but over the course of time that progress is huge. The 6 months that I've been here the change on the ANA side is dramatic. The forces here are becoming more and more professional with every day that passes," said Seber.
"The absolute end-all goal is I can shake hands with the Afghan commander of that training site, give him a salute and then walk away, and that training site will continue to train Afghan police forces for 20 years," added Waite.