The third Student Traffic Awareness Training class of 2010 was held on Saturday August 28th. This four hour class  designed to teach teens the responsibility of driving a car and how to stay alive behind the wheel is free to all teens 15 – 18 years of age.
 
Kaye Jones, President of the Citizens Police Academy,  talked to the class of 70 students about the driving course before they start the driving part of the class. During the driving part of the class each student drives a course twice on a golf cart. First time around the course the students drive the golf cart with DUI Goggles on.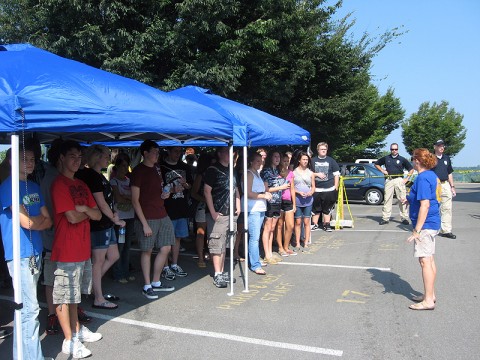 The second time around the course they attempt to text a message while driving the course. At the end of each driving course the students are totally amazed at how many cone kids they have run over. For the safety of the the students a police officer is in the cart with them while they are driving.  
For information on the last Student Traffic Awareness Training class of 2010 please call Kaye Jones at 320-5762