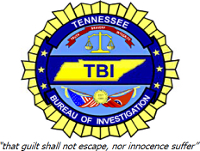 Nashville, TN – The Tennessee Bureau of Investigation has arrested and charged a Clarksville, TN man with the shooting of two victims yesterday afternoon in Stewart County, TN.
James Earl Farley Jr., 26, of Clarksville, TN has been charged with one count of criminal homicide and one count of attempt to commit criminal homicide.
Yesterday afternoon, Farley shot and killed 47-year-old Robert Ray Brooks and shot 25-year-old Billy Nichols at Grice Creek boat dock on Highway 149 in Stewart County.
Nichols was treated and released from Vanderbilt Hospital.
The TBI received information that Farley was hiding in a residence in Clarksville shortly after the shooting. With the assistance of the Clarksville Police Department, officers located the suspect on the 1200 block of Commerce Street.
After a short stand-off with police, Farley surrendered and was taken into custody at approximately 7:00pm.
Farley is being held in the Stewart County jail without bond.
Additional Photos