September 25th, 2010 • 11:00am CDT
Madison, WI • Camp Randall Stadium (80,321)

Clarksville, TN – Wisconsin will be the first Big Ten opponent the Govs have played in University history. Saturday's game will see the Governors play their second Football Bowl Subdivision (FBS) team this season. The Govs, Football Championship Subdivision members of the Ohio Valley Conference, lost to Middle Tennessee, 56-33, September 11th. However, it will be the first time in school history the Govs will play a Bowl Championship Series (BCS) opponent.
This is the Governors' fifth season in its return to playing scholarship football and fourth back in the OVC. Following the 1996 season, Austin Peay elected to forego scholarship football for a non-scholarship era that lasted from 1997 to 2005.
The 11:00am start at Wisconsin will be the Governors first morning start since they played an 11:00am contest at Valparaiso, September 23rd, 2000, during the program's non-scholarship era. That was believed to be the first morning start in program history.
Austin Peay has enjoyed only 18 winning seasons in 73 years of football and only two winning seasons since the turn of the century–a 7-5 mark in 2002 as a non-scholarship program and a 7-4 record in 2007 in Rick Christophel's first season.
Sophomore placekicker Stephen Stansell has connected on 7-of-8 field-goal attempts this season. He was named OVC Specialist of the Week after going a perfect 4-for-4 against Tennessee State, Saturday, including a 50 yarder.
After playing extremely long games in their first two contests this season (Cumberland 3:34 and Middle Tennessee 3:35), the Govs-TSU game finished in under 3:00 (2:51).
Terrence Holt is Austin Peay's first preseason All-Ohio Valley Conference Player of the Year. He was named the league's preseason Offensive Player of the Year. The Govs had just four players earn postseason OVC Player of the Year honors. Carlton Flatt (1964) and Sonny Defilippis (1980) earned offensive honors while Bob Bible (1977) and Mike Betts (1978) earned defensive honors.
Badgers to Watch
Quarterback Scott Tolzien has completed 49 of 67 passes (73.1 percent) for 634 yards…At 6-1, 244, junior All-America running back John Clay has rushed for 383 yards and five TDs in three games. All-America tight end Lance Hendricks has 11 catches for 196 yards and two TDs so far. Three Badgers offensive linemen, tackles Gabe Carimi and Josh Oglesby along with guard John Moffitt all earned preseason All-America honors.
Defensively, defensive end J.J. Watt, who has been name to multiple prestigious defensive "Watch Lists," has 11 tackles, three for loss, plus four quarterback hurries and four pass breakups. On the other side, Louis Nzegwu also has three tackles for loss, including two quarterback sacks. Middle Linebacker Culmer St. Jean owns a team-leading 17 tackles. Fellow linebacker Blake Sorenson has 16 tackles and one of the team's two interceptions.
Setting the Scene
The Series: First meeting

The Govs rejoined the Ohio Valley Conference for football in 2007 after returning to scholarship football in 2006. The Govs finished sixth in the OVC a year ago with a 3-5 league mark and were 4-7 overall. The Govs are picked to finish tied for seventh in 2010.
Meanwhile, Wisconsin is a perennial Big Ten power, having appeared in post-season bowls for eight straight seasons and having won 10 bowl games since 1993. The Badgers have won 27 straight regular-season non-conference games and have not lost at Camp Randall to a non-conference foe since dropping a decision to UNLV, September 13th, 2003.
Offensive Notes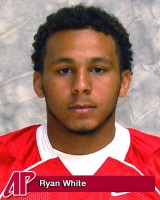 Running back Ryan White, the 2009 OVC rushing leader, finished with 112 yards on 17 carries against Tennessee State, including a career-best 63-yard second-quarter TD run. It was White's first 100-yard rushing performance this season and eighth of his career.
After three games this season, the Governors are averaging 32.3 points per game and 346 yards per game total offense.
Also after three weeks, the Govs remain efficient in the Red Zone. In 10 opportunities, the Governors have scored nine times, including four TDs and five field goals. The Governors came away with four scores (one TD and three field goals against Tennessee State.
After catching just one total pass in the season's first two games, Adrian Mines, the Govs' leading receiver the past two seasons, had 7 catches for 84 yards against Tennessee State, including the seven-yard snag and stretch for the game-winning TD with 40 seconds left.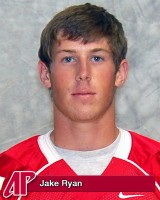 Sophomore quarterback Jake Ryan, after setting career highs for TD passes (2), yards (224), and completions (16) at Middle Tennessee, enjoyed another strong performance against Tennessee State. He completed13 of 21 passes for 178 yards and one TD. He was a perfect 4-for-4 for 49 yards on the game-winning drive, including the TD pass to Mines.
After not allowing a sack in the season's first two games, the Govs offensive line permitted two sacks to the Tennessee State formidable front. That dropped the Govs from first in FCS in sacks allowed to seventh.
Sophomore wide receiver Devin Stark has been nothing but versatile in the early going. On Saturday against Tennessee State, he carried the ball on a reverse for 13 yards. In the season opener, he threw the Govs' first TD pass of the season, a 30-yard strike. He also has five catches for 109 yards, including a 41-yard catch against Tennessee State.
In throwing two TD passes against Middle Tennessee, it represented the first time in Jake Ryan's career that he tossed multiple TD passes in a game.
Sophomore wide receiver Devin Stark led the Govs receiving corps with four catches for 63 yards and a TD against Middle Tennessee.
Defensive Notes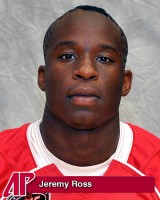 After forcing eight turnovers in the first two games, the Governors defense was unable to create a turnover against Tennessee State.
Safety Jeremy Ross, the OVC Co-Defensive Player of the Week for his three fumble-recovery performance at Middle Tennessee, had seven first-half stops, including being involved in a quarterback sack against Tennessee State. He finished with nine tackles.
Freshman defensive end Preston Gilbreath, in his third college start, recorded his career's first quarterback sack late in third quarter against Tennessee State.
A pair of sophomores, linebacker Darrick Dillard and safety Antwaun Majors led the Governors in solo stops against Tennessee State with six apiece.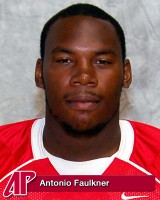 Senior defensive tackle Antonio Faulkner has been a force on the defensive line this season. Although he was credited with only two stops against Tennessee State, he is the only Govs lineman to have double-digit stops (14) for the season. He also blocked an extra point against the Tigers, bursting through the middle of the line to knock down the attempt.
Safety Jeremy Ross was named the College Football Performance Awards Co-Defensive Performer of the Week for his work against Middle Tennessee, September 11th. The College Park, GA, native recovered three fumbles, returning one for a 16-yard TD.
Sophomore linebacker Zac Burkhart, who suffered a torn ulnar collateral ligament against Cumberland, could return to practice next week–the Govs bye week. Senior Ricky Thomas has started in his place alongside sophomore Darrick Dillard. Thomas was credited with nine tackles against Tennessee State.
With sophomore linebacker Zac Burkhart out with torn elbow ligament and freshman linebacker Craig Salley out with a knee problem, the Governors linebacker corps faced depth problems against Middle Tennessee in the season's second game. As a result, two first-year freshmen Josh Carroll and Josh Owens saw significant snaps in the first half.
Junior weak safety Amius Smith was credited with eight tackles in each of the last two contests against Middle Tennessee and Tennessee State after tallying nine stops against Cumberland.
Special Team Notes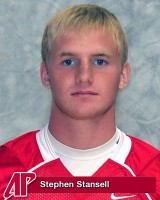 Sophomore kicker Stephen Stansell is a perfect 10-of-10 on extra-point attempts and 7-of-8 on field goal attempts so far this season. Stansell's only missed field goal came as a result of a misstepp he had on a 46-yard field goal at MTSU.
Kicker Stephen Stansell, who tied a school record with four field goals as the Govs rallied for a 26-23 win against Tennessee State, Saturday, has been named FCS College Football Performance Awards (CFPA) Placekicker Co-Performer of the Week. The 5-11, 183-pound sophomore from Athens was a perfect 4-for-4 on the day against TSU at LP Field, scoring 14 of APSU's 26 points. The four field goals tied the school record originally set by Tom McMillan, September 5th, 1987, at Kansas State.
In three games Stansell has recorded five touchbacks on kickoffs. In 21 kickoffs, the opponents average field position after kick is the 27-yard line.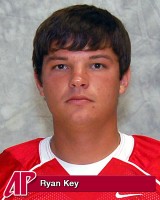 Senior punter Ryan Key has been nothing but consistent during 2010. Not only is he averaging the ninth best punting average (43.67 yards per punt) in FCS, he has averaged no less than 41.7 yards per punt in each of the Govs' first three games, including 43.0 yards per punt against Tennessee State. The previous week, his 70-yard fourth-quarter punt against Middle Tennessee was the Govs' longest since Jaime Iracheta booted one 65 yards against Morehead State, September 4th, 1997.
College Football Performance Awards (CFPA) named Ryan Key honorable mention Punter Performer of the Week after he averaged 44.7 yards per punt, including a 70 yarder, against Middle Tennessee. September 11th. The 44.7 average was the second best of his career.
Despite Tennessee State's attempt to avoid Terrence Holt with their respective kicks, the FCS all-time career kickoff yardage return leader returned three kickoffs for 83 yards, including a 38 yarder. However, it was his punt-return ability that helped setup the Govs' final score. He returned a punt from the Govs' 15-yard line and gave his teammates workable field position with a 23-yard return to the 38.
The Governors, who blocked four kicks in 2010, have two blocked kicks already this season, including Antonio Faulkner's key block of a fourth-quarter extra point.
Terrence Holt, with his three returns against Tennessee State, has tied the FCS record for kickoff returns (155).
With his four combined returns against TSU, Holt now has tied the FCS record for total kick (kick + punt) returns (199).
All-America kick returner Terrence Holt has chalked up at least 1,100 yards in kickoff returns yards in each of his three previous seasons.
Senior linebacker Ricky Thomas has blocked six kicks during his career, including three last season.