Written by Tech. Sgt. Drew Nystrom
455th Air Expeditionary Wing Public Affairs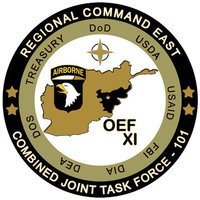 Bagram Airfield, Afghanistan – Brothers-in-arms is a phrase often used to describe the special relationship between those serving in combat.

For U.S. Army Staff Sgt. Jonathan Cole and U.S. Air Force Senior Airman William Cole, it is a literal description. The brothers serve in different services at the same time in different parts of Afghanistan.

Jonathan Cole is a member of the 101st Airborne Division based out of Fort Campbell, KY, and his younger brother, William Cole, is a weapons load crew member assigned to the 336th Aircraft Maintenance Unit based out of Seymour Johnson Air Force Base, NC.

Recently, their paths crossed at Bagram Airfield where Airman Cole is based and Sergeant Cole transited through on his mid-tour break.

Due to the Coles' high deployment tempo, the meeting was the first time they'd seen each other in two years. The unique opportunity not only gave the siblings time to catch up, but also a first-hand perspective of the importance of providing close air support to the warfighter.

Sergeant Cole's job takes him outside the wire and into harm's way on a daily basis and the knowledge that Air Force jets are standing by to assist instills great confidence.

"Any kind of close air support assets you have is a sense of comfort," Sergeant Cole said. "When you have 27 dudes and you're 13 klicks (military slang for kilometer) from the nearest forward operating base, it's obviously a comforting thought.

"If you do take contact it's the exact same thing as if the biggest machine gun you carry opens up. It's motivating for everybody and it's a game changer," the combat veteran said.

The often-cited "restrictions" put into place to reduce the likelihood of civilian casualties hasn't affected the support Sergeant Cole and warfighters like him receive, the sergeant said.

"No matter what, we have CAS approved before we go [on a mission]," Sergeant Cole said. "Basically, we're just ensuring we use the required checklist to ensure we're following the rules closely to make sure civilian casualties aren't happening.

"No matter what, if you're in dire need and you [the warfighter on the ground] need air support, then we have the assets available at a moment's notice," he said.

The bombs Sergeant Cole counts on, if needed, have a good chance of having been loaded by his younger brother.

"I've always known my brother was an Army infantryman," Airman Cole said. "When bombs got called in, I would always have a different mentality than some of the other maintainers or loaders because I knew personally who we're doing this for.

"A master sergeant or a chief can stand up and say we're doing this for the guys on the ground, but that doesn't help put a face with the mission. So this was great because I got to bring my brother to my job and let everyone see firsthand who we're doing this for," Airman Cole said.

Time spent waiting for a flight out of Bagram allowed Sergeant Cole the opportunity to see his brother and his teammates at work turning jets and providing that "game changer" 24 hours a day.

"Everyone was amazed by the fact that he was able to be here," Airman Cole said. "He actually got to see me load a couple of bombs and he got to see some of the maintenance. He's seen the amount of man-hours it takes to get the jets in the air. He's seen what it really takes to get that CAS overhead.

"The amount of work and dedication to get these jets in the air was incredible," Sergeant Cole said. "Everyone has a job and a purpose. From what I've seen, if one person doesn't do their part to the best of their ability it would throw the whole thing off."

The appreciation for what each other does wasn't just limited to the brothers.

"People say thank you for what you do," Airman Cole said of his brother, "because they recognize that he is on the ground and he tells them, 'No, thank you for what you do.'"

Sergeant Cole related some of his experiences to the weapons load and maintenance Airmen. His talk gave them newfound insight into how their jobs affect the warfighter.

Staff Sgt. William Norton, a weapons load crew chief with the 336th AMU and Airman Cole's supervisor, said the experience was awe-inspiring.

"It was unique meeting somebody who is a direct customer of what we do on a daily basis," Norton said. "It brought a sense of realism to what we do and I think it was good for everybody to see that. It makes everybody take a second and think about what and who we do this for."

"It's a once in a lifetime thing to be able to say I went to Afghanistan and was able to serve with my brother," Airman Cole said.

"There aren't that many people in the military so there are very few people who understand what we go through, but to be able to share it with my brother is a bond we'll have forever. To be able to walk down the street here at Bagram, Cole and Cole, is pretty cool.

Pretty cool indeed.



Sections
News
Topics
101st Airborne Division, Afghanistan, Bagram Airfield, Drew Nystrom, Fort Campbell KY, Jonathan Cole, Seymour Johnson Air Force Base, Soldiers, U.S. Air Force, William Cole, William Norton