APSU Women's Volleyball

Morehead, KY – A battle of the Ohio Valley Conference's top two teams proved to be a see-saw battle, Austin Peay State University's volleyball team falling just short in a five-set loss (25-15, 18-25, 17-25, 25-17, 15-13) to league-leading Morehead State, Tuesday night, at Wetherby Gym.
All five sets were one-sided affairs, the first two saw the winning team grab an early lead and hold on while the final three sets were wire-to-wire decisions. Ultimately, the total point difference in the match was a single point.
"Both teams battled tonight," said Lady Govs head coach Haley Janicek. "Sometimes you play your hardest and lose to a good team. The margin we lost by tonight was so minute. It could have gone either way."
The fifth set saw Morehead State score the first point and then battle Austin Peay through six ties, the last at 10-10, before scoring consecutive points. The Lady Govs would deny the Eagles first match point try, moving to within 14-13 on senior Jessica Mollmann's kill. However, they could not force a seventh tie, Morehead State's Ellie Roberson ending the match with a kill.
Austin Peay (18-6, 9-4 OVC) finished the night with 60 kills and a .317 attack percentage. The Lady Govs service game wasn't at its sharpest, finishing with just four aces and 12 errors.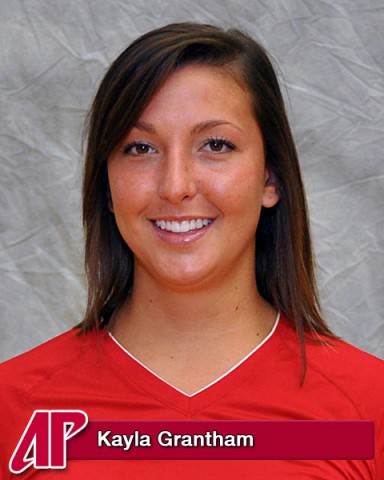 Junior Kayla Grantham came off the bench to record 12 kills on 22 attacks, finishing with a .545 attack percentage – the best by a Lady Govs individual. Junior Ilyanna Hernandez led the Lady Govs with a 16-kill performance. Mollmann added 11 kills and a .429 attack percentage.
Morehead State (18-7, 12-1 OVC) recorded 62 kills and a .318 attack percentage. The Eagles also had their trouble at the service line with five aces and 15 errors. Morehead State won both ends of the defensive battle, posting a 65-50 edge in digs and a 9-3 advantage in blocks.
Kaitlin Craven led all hitters with 18 kills and a .457 attack percentage. Holly Evans added 17 kills at a .441 clip.
Austin Peay, which remains second in the OVC regular-season race, returns home for a two-match homestand, beginning with a 7:00pm, Friday contest against fourth-place Jacksonville State.