APSU Women's Basketball 

Martin, TN – Austin Peay women's basketball team continued its post-Christmas break swoon, falling 78-54 to UT Martin in Ohio Valley Conference action, Thursday night, at the Elam Center. 
UT Martin (8-7, 3-1 OVC) – playing without freshman Heather Butler, the OVC's leading scorer, who missed the game due to illness – dominated the second half, outscoring Austin Peay (4-13, 3-2) by a 45-26 margin. However, it was a pair of 11-point Skyhawk runs that did in the Lady Govs.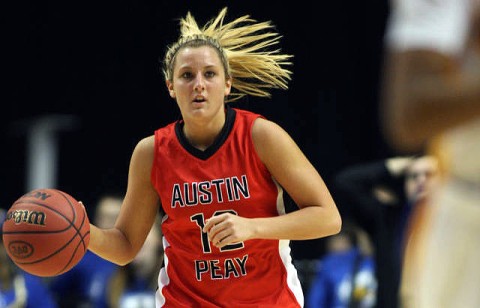 The Skyhawks opened the second half with 11 consecutive points, stretching a five-point halftime lead into a 14-point, 42-28 advantage. Freshman Jaclissa Haislip scored five points during the opening stretch. 
Austin Peay finally broke through in the second half when freshman Nicole Olszewski made a pair of free throws with 15:47 remaining. That started a 6-0 APSU burst and cut the lead to eight points with 14:43 left. 
The Lady Govs would get as close as six points, 47-41, with 10:51 remaining courtesy a jumper by junior Whitney Hanley, but they would get no closer. The Skyhawks scored the game's next 11 points in a stretch of 2:29 to build a 17-point, 58-41, lead and they would not be threatened the game's remainder.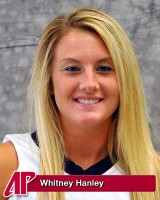 The first half was a battle of scoring runs. The Lady Govs scored the game's first five points.  The Skyhawks battled back with a 15-2 run over eight minutes to take an eight-point, 15-7, lead.  
Austin Peay quickly rallied back, scoring 11 of the next 13 points, including consecutive sophomore Neika Smith's two consecutive three-point field goals, to take an 18-17 lead with 7:42 left.  
UT Martin scored the game's next six points courtesy Beth Hawn's consecutive three-pointers to take a five point lead, 23-18, with 6:37 left.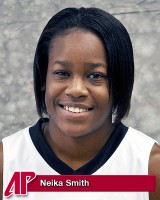 The Lady Govs rallied to tie the game for the final time, 23-23, after a Olszewski free throw with 4:28 remaining, but could not regain the lead. UTM scored the game's next five points and nursed that five point advantage into a 33-28 halftime lead. 
Hanley led the Lady Govs with 11 points but was just 4-of-16 from the field, including a 3-of-11 effort from three-point range. Senior Dalila Thomas added 10 points off the bench. 
Austin Peay continued to have difficulty shooting the ball, making just 30.3 percent (20-of-66) from the field. The Lady Govs were particularly cold in the second half, making just 26.5 percent (9-of-34).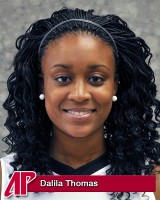 Four of UT Martin's starters scored more than 10 points, freshman Jasmine Newsome leading all scorers with 19 points while adding seven rebounds and six assists. Hawn finished with 14 points. 
The Skyhawks made 45.9 percent (28-of-61) of their field goals, including an impressive 44 percent (11-of-25) of their three-point field goals. UTM also won the rebounding battle by a 44-38 margin. 
Austin Peay returns to action with a 1:15pm, Saturday contest at Murray State.