APSU Men's Basketball

Clarksville, TN – Austin Peay will attempt to rebound literally and figuratively from its first Ohio Valley Conference defeat when Tennessee Tech comes to town, 6:00pm, Thursday for an ESPNU telecast.
The Governors are hoping to bounce back after losing in overtime to Tennessee State, 76-74, Saturday in Nashville. It was a contest the Governors could not finish off after leading by seven with 1:18 remaining.
And rebounding, or lack thereof, proved to be a deciding factor in the defeat as TSU out-rebounded the Governors, 52-37, including 20 offensive grabs. A TSU offensive rebound tied the game in regulation and another offensive snatch helped give the Tigers a four-point overtime lead.
An improved rebounding effort will be a necessity against the OVC's top rebounding team (37.1 rpg) and second in rebounding margin (+5.3 rpg). It was the Golden Eagles rebound performance that played a significant factor in their OVC tourney first-round defeat of the Govs, 68-65, last March.
Also a factor in that contest was Kevin Murphy, who scored 18 points, including the game-winning three pointer at the buzzer. He has continued his ascent as one of the OVC's top players, scoring 56 points in the past week–25 against UT Martin in a triple overtime victory and 31 in Saturday's loss to Murray State.
He has been the beneficiary of the presence of Zac Swansey, the former Georgia point guard who is leading the OVC in assists.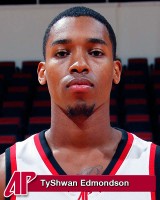 Sophomore Jud Dillard, who hurt the Governors in the loss at Tennessee Tech in 2009-10, has emerged as a key figure, averaging 10.8 ppg, but more than two points  per game better during league play.
For the Governors, guard TyShwan Edmondson snapped out of a two-game offensive funk to score 33 points against Tennessee State, including seven three pointers. He scored 21 of his points after intermission.
Forward Melvin Baker snapped a four-game single-digit scoring streak by tallying 14 points against Tennessee State.
The Govs' defense forced a season-high 25 turnovers in the contest, but allowed the TSU starting guards to go a combined 13 of 20 from the floor.
What You Should Know
The Series: This is the 114th meeting between Austin Peay and Tennessee Tech,  two Ohio Valley Conference rivals, with APSU holding a slim 68-65 advantage. Tennessee Tech won two of the three meetings a year ago. The Golden Eagles won in Cookeville, January 21st, 2010, before the Govs squeezed out a 77-72 overtime decision in Clarksville, February 18th. Then in first-round OVC tourney action, March 2nd, Kevin Murphy hit a three-pointer at the buzzer to defeat the Governors in Clarksville, 68-65.
What A Win Would Mean: The Govs would rise to six games above the .500 mark at 13-7 before playing host to Jacksonville State, Saturday. It would make the Govs 7-1 in the OVC. It would give the Govs a 4-1 record in January. It would give the Govs a 6-1 home record. It would give the Govs a 3-0 OVC home record. It also would be Loos' 426th career college coaching win and 344th APSU victory. It would make Dave Loos 13-8 against Mike Sutton.
What A Loss Would Mean: The Govs would drop back to four games above the .500 mark at 12-8. It would be the Govs second-straight loss. It would be the Govs' first OVC home defeat. It would be the Govs second-straight loss in the series. It would drop APSU to 68-66 all-time in the series. It would be Loos' 337th all-time loss and 284th APSU defeat. It would drop Dave Loos to 29-22 all-time against Tennessee Tech.
Rebounding Woes: Austin Peay has been outrebounded in six of its seven losses this season. Tennessee State's 52-35 rebounding margin was the Govs' second largest rebounding deficit this season. The Governors also have been outrebounded in their last four contests by a margin of 9.2 rebounds. During OVC play the Govs, in fact, are being outrebounded by a 4.0 rebounds per contest.
Shooting Pain: The Govs' 40 percent shooting (28 of 70) against Tennessee State was their second worst shooting effort during OVC play. Their worst was a 35.8 percent (24 of 67) at Eastern Illinois in early December. Despite Saturday's shooting troubles, in the last seven games the Governors have shot 50 percent or better in five of them, including 50.9 percent (28 of 55) at UT Martin. The Govs, in fact, shot 61.3 percent (19 of 31) in the second half of that contest.
Tigers Turnovers: Tennessee State's 25 turnovers against the Governors were the most forced by APSU this season. The previous high was 24 by Memphis. It also was the first time the Govs forced more than 20 turnovers during OVC play this season.
Next Game
Saturday, January 22nd at 7:30pm
Dave Aaron Arena, Clarksville, TN – Jacksonville State entered the weekend still seeking its first OVC win after dropping a 63-60 decision,  Saturday, against previously winless UT Martin. Still, the Gamecocks have displayed their capabilities, having played Murray State close until the closing minutes a week ago. Senior guard Nick Murphy (15.2 ppg) leads the way while junior forward Stephen Hall has settled in at forward to average 11 ppg. Meanwhile, senior guard Jeremy Bynum, one of the OVC's top three-point threats, is averaging 10.9 ppg.