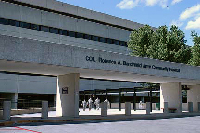 Fort Campbell, KY –  While many Fort Campbell Soldiers have been serving in Afghanistan, Blanchfield Army Community Hospital has been working hard to bring healthy initiatives to the Soldiers' Families. One new initiative, Kangaroo Care, kicks off on the final day of Patient Recognition Week, February 1st-7th.
BACH is kicking off Kangaroo Care Monday, February 7th from 9:00am-1:00pm with a cake cutting, photos with a kangaroo display board with face cutouts for parents and children, as well as an informational presentation about Kangaroo Care. Parents and soon to be parents are invited to enjoy the kick off and learn about the benefits of Kangaroo Care and how to start giving babies the best chance at healthy lives.
Kangaroo Care is a skin to skin technique in which a newborn baby in a diaper lays on the mother's bare chest, with a blanket covering both to retain heat. BACH staff members encourage mothers to do this immediately following the birth.  Nurses at BACH have seen that Kangaroo Care helps calm mother and child. Research also shows that skin to skin contact between a parent and their newborn infant at birth improves sleep patterns, regulates a newborn's breathing and heart patterns, increases breastfeeding success and enhances bonding.
Even returning Soldiers are encouraged to do Kangaroo Care with their new babies because it is a great way to build or strengthen the bond between parent and baby. "Kangaroo care can be done by fathers as well, this gives the baby a chance to learn their father's voice, heartbeat, scent and increases their bonding," said BACH Mother Baby Unit Officer in Charge and Clinical Nurse Cpt. Jamie Wood. "I would encourage any parent expecting a child to ask their healthcare provider about Kangaroo Care."
BACH recognizes the sacrifices our patients and their Families make every day. We work hard to show our appreciation through healthy initiatives like Kangaroo Care to help Soldiers and their Families live healthy lives.