APSU Men's Basketball

Cookeville, TN – Austin Peay State University's slump continued Friday night as the Governors shot just 40.4 percent from the floor as it fell to Tennessee Tech, 70-64, Monday night, in Ohio Valley Conference action at the Hooper Eblen Center.
The loss was the Governors second straight and third in the last four games as APSU falls to 15-11 overall and 9-5 in the OVC.
Tennessee Tech, meanwhile, improved to 9-5 in the OVC—moving into a tie with the Govs—and 13-10 overall.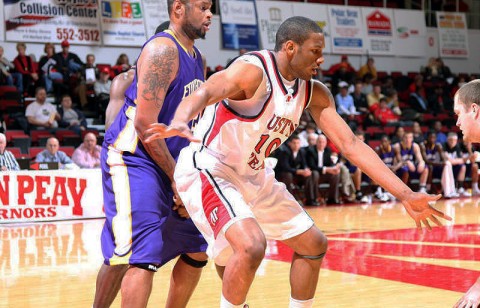 The Governors wasted the coming out party of freshman forward Will Triggs. Inserted into the starting lineup after earning OVC Freshman of the Week after averaging 13.5 points and 7.0 rebounds over the weekend, Triggs was even more stellar. He connected on 10-of-13 floor shots and all five free-throw attempts to finish with 25 point and eight rebounds.
But Triggs literally was a one-man gang. Justin Blake was the Govs only other double-figure scorer, coming off the bench to score 10 points.
Take away Triggs' shooting performance, the rest of the Govs lineup was just 11-of-39 from the floor (28.2 percent). In fact, the Govs' starting backcourt of Caleb Brown and TyShwan Edmondson were a combined 4-of-17 from the floor as APSU struggled finding success from three-point range (3-of-17).
The Governors trailed by as many as eight second-half points on four occasions, including 58-50 with 5:40 left. But APSU scrapped its way to a one-possession game by fouling Tennessee Tech and watching the Golden Eagles make just four-of-eight free throws over a 1:38 span.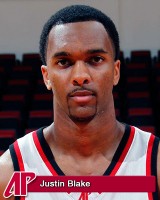 After Tech's Zach Bailey made the second free throw of a two-shot foul to increase the lead to 67-64 with 22 seconds left, APSU had a chance to tie it. But Brown's three pointer with 10 seconds left from the top of the circle drew iron and the Govs opportunity for the late comeback came up short.
But it was more than poor shooting that led to APSU's undoing. Second in the OVC assist-to-turnover ratio—along with total turnovers—the Govs committed 17 turnovers while being credited with just 12 assists.  Also, the Govs, who out-rebounded the Golden Eagles, 21-15 in the first half, were pounded by a 21-8 second-half margin.
Kevin Murphy led Tennessee Tech with 18 points while Zac Swansey added 11.
Next Game
Austin Peay will host Tennessee State in a 7:30pm, Saturday, February 12th contest at the Dunn Center.
Box Scores
Austin Peay vs Tennessee Tech
02/07/11 – 7:00pm at Cookeville, TN
Austin Peay 64
 
 
 
Total
3-point
 
Rebounds
##
Player
p
fgm-fga
fgm-fga
ftm-fta
off-def
tot
pf
tp
a
to
blk
stl
min

03 

BROWN, Caleb 

* 

2-9 

0-4 

2-2 

0-2 

2 

3 

6 

1 

5 

0 

1 

24 

10 

TRIGGS, Will 

* 

10-13 

0-0 

5-5 

4-4 

8 

5 

25 

2 

2 

0 

0 

26 

12 

EDMONDSON, Tyshwan 

* 

2-8 

0-4 

0-0 

1-1 

2 

4 

4 

0 

0 

0 

2 

30 

21 

FRALEY, John 

* 

1-1 

0-0 

6-6 

0-7 

7 

4 

8 

3 

3 

2 

0 

26 

23 

TERRY, Josh 

* 

1-5 

0-0 

1-2 

3-1 

4 

5 

3 

3 

4 

0 

2 

27 

04 

WILLIAMS, Marcel 

– 

0-1 

0-0 

0-0 

0-2 

2 

0 

0 

0 

0 

0 

0 

11 

05 

CALDWELL, Tyrone 

– 

2-4 

1-2 

2-2 

0-1 

1 

0 

7 

1 

1 

0 

0 

17 

20 

BAKER, Melvin 

– 

0-3 

0-0 

1-2 

0-0 

0 

2 

1 

0 

1 

0 

0 

12 

32 

BLAKE, Justin 

– 

3-8 

2-7 

2-3 

0-1 

1 

1 

10 

2 

1 

0 

0 

23 

33 

HASSE, Matt 

– 

0-0 

0-0 

0-1 

0-1 

1 

0 

0 

0 

0 

0 

0 

4 

TM 

TEAM 

– 

– 

– 

– 

1-0 

1 

– 

– 

– 

– 

– 

– 

– 

 

Totals………….. 

– 

21-52 

3-17 

19-23 

9-20 

29 

24 

64 

12 

17 

2 

5 

200 

 

40.4% 

17.6% 

82.6% 

 
Team summary:
 
FG
3FG
FT
 
1st Half: 
 

10-27 

2-8 

8-11 

 

37.0% 

25.0% 

72.7% 

 
2nd Half: 
 

11-25 

1-9 

11-12 

 

44.0% 

11.1% 

91.7% 
Tennessee Tech 70
 
 
 
Total
3-point
 
Rebounds
##
Player
p
fgm-fga
fgm-fga
ftm-fta
off-def
tot
pf
tp
a
to
blk
stl
min

11 

BARNES, Terrell 

f 

1-2 

0-0 

0-2 

2-6 

8 

4 

2 

1 

3 

1 

0 

17 

34 

JONES, Alfred 

f 

4-7 

0-0 

2-2 

0-5 

5 

1 

10 

0 

0 

1 

0 

30 

02 

SWANSEY, Zac 

g 

5-8 

0-2 

1-2 

0-1 

1 

0 

11 

5 

3 

0 

5 

34 

42 

BAILEY, Zach 

g 

0-7 

0-6 

2-4 

0-2 

2 

3 

2 

5 

2 

0 

1 

30 

55 

MURPHY, Kevin 

* 

6-9 

1-2 

5-10 

1-7 

8 

0 

18 

1 

3 

1 

2 

30 

04 

MCMORROW, Liam 

– 

0-1 

0-0 

0-0 

1-0 

1 

2 

0 

0 

1 

0 

0 

4 

21 

MARSEILLE, Matt 

– 

1-3 

0-0 

2-2 

1-0 

1 

2 

4 

1 

1 

0 

0 

10 

24 

DUNN, Chase 

– 

3-6 

2-5 

0-0 

0-0 

0 

0 

8 

1 

0 

0 

0 

8 

25 

DILLARD, Jud 

– 

2-3 

0-0 

5-8 

1-2 

3 

1 

9 

1 

2 

0 

1 

19 

32 

INAMETI, Bassey 

– 

2-5 

0-0 

2-2 

4-1 

5 

3 

6 

2 

0 

0 

0 

18 

TM 

TEAM 

– 

– 

– 

– 

1-1 

2 

– 

– 

– 

1 

– 

– 

– 

 

Totals………….. 

– 

24-51 

3-15 

19-32 

11-25 

36 

16 

70 

17 

16 

3 

9 

200 

 

47.1% 

20.0% 

59.4% 

 
Team summary:
 
FG
3FG
FT
 
1st Half: 
 

12-27 

1-8 

7-9 

 

44.4% 

12.5% 

77.8% 

 
2nd Half: 
 

12-24 

2-7 

12-23 

 

50.0% 

28.6% 

52.2% 
| | | | | |
| --- | --- | --- | --- | --- |
| Score by Periods |  1st   |  2nd  |  Total  |   |
| Austin Peay   | 30  | 34  | 64  | Record: (15-11 (9-5 OVC))  |
| Tennessee Tech   | 32  | 38  | 70  | Record: (13-10 (9-5 OVC))  |
Officials:Technical fouls: Austin Peay-None. Tennessee Tech-None.

Attendance: 1097