Craig Morgan to Headline Spring Into Summer Festival Concert 
Oak Grove, KY – The Oak Grove Tourism Commission is excited to announce Craig Morgan as the headliner for the Saturday night concert at their 4th AnnualVice Concert Spring into Summer Festival. Morgan will take the stage at the Viceroy Performing Arts Center in Oak Grove, Saturday May 28th, 2011 at 8:00pm. The concert, along with all other activities at the Spring Into Summer Festival, is free and open to the public.  
Morgan is known for such hits as "Red Neck Yacht Club," "Almost Home," "That's What I Love About Sunday," "International Harvester," and most recently, "Bonfire."  He became a member of the Grand Ole Opry in 2008 and now, 10 years into his career, Morgan is still releasing hits with his most recent album, "This Ole Boy."
Before pursuing his career in music, Craig Morgan worked several blue-collar jobs including an EMT, sheriff's deputy and soldier. Morgan served more than ten year Craig Morgans in the Army including a stint with Oak Grove's next door neighbor, the 101st Airborne Division. He just returned from his ninth overseas tour to entertain the troops and he received the 2006 USO Merit Award for his support.
"I was one of the first artists to go into Afghanistan," says Morgan. "Right after the invasion, they were still sweeping up glass in Kandahar in the airport. I get to give those men and women a little piece of home. It really does make a difference."
This concert will definitely make a difference to hundreds of men and women of the 101st Airborne Division at Fort Campbell, many of whom are in the process of returning home after their most recent deployment to fight the War on Terror.
"We think he is the perfect person to headline this event because of his connection to and support of the military and our relationship and proximity to Fort Campbell," said Traci Cunningham, Oak Grove Tourism Commission Director. "We are right across the street from the Army post and many of our residents are just returning from their third or fourth tour overseas.  There is no better person to honor their return than Craig Morgan."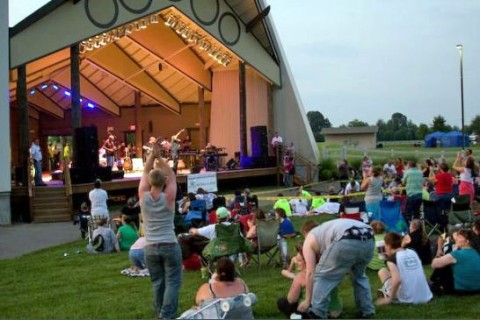 The 4th Annual Spring Into Summer Festival will take place May 28th-29th, 2011. Activities will run Saturday May 28th from 12:00pm-9:00pm and Sunday May 29th from 12:00pm-6:00pm. 
All parking and activities are free! Both days of the festival will include, free carnival rides, pony and train rides, 3 variety shows, food and merchandise vendors.