APSU Women's Softball

Kennesaw, GA – Despite a great pitching performance by Morgan Brewer, Austin Peay's softball team finished out its games at the Georgia Tech Buzz Classic with a loss, falling to Kennesaw State, 1-0.
Austin Peay (3-13) saw its sophomore right hander limit the Owls to just three hits in the game, but it was back-to-back errors by freshman shortstop Kayla Davidson, in the bottom of the sixth inning, that proved to be the difference in the contest.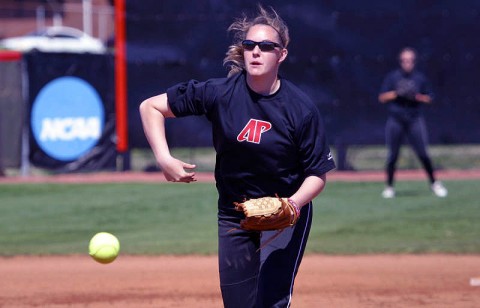 With the game still tied 0-0, Brewer (1-6) got the first Kennesaw State hitter to fly out to right field to start the inning, but the Owls Bianca Durant followed with a groundball to Davidson, who's throw to first base was wide and before the errant throw could be tracked down, Durant had advanced to second base and into scoring position with one out.
Brittany Moore would follow for Kennesaw State (13-5) with a ball at Davidson, which short hopped her and went up her arm and out into centerfield, but before Lady Govs center fielder Catie Cozart could roundup the ball and make a throw home, Durant had scored an unearned run to give the Owls a 1-0 lead.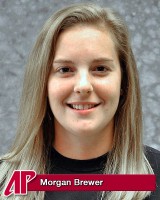 Kennesaw State pitcher Jessica Cross would make that run hold up, as she retired the final three Lady Govs hitters in order in the top of the seventh for the victory.
Along with the three hits, Brewer finished with game with one strike out and one walk, while also hitting two Kennesaw State players.
Offensively, Austin Peay was limited to just one hit – a fifth-inning leadoff single up the middle by red-shirt sophomore Shelby Norton.
The Lady Govs best chance of scoring came in the top of the first inning, with senior Tiffany Smith opening up the game by drawing a walk and moving into scoring position at second base on a sacrifice bunt by junior Amy Mills.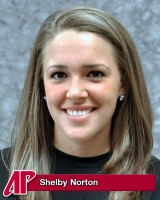 Cozart would then get hit by a pitch, giving the Lady Govs runners and first and second base with one out, but freshman Lauren de Castro and Brewer would strike out to end the scoring threat.
Smith would also lead off the sixth inning with a walk, but Cross got the next three Lady Govs in order to strand her at first base.
Austin Peay is off until March 12th-13th, when it opens up Ohio Valley Conference play with a three-game series at Morehead State.