APSU Women's Tennis

Clarksville, TN – Austin Peay State University women's tennis team steps out of Ohio Valley Conference play for a 5:00pm, Friday match at Big East member Louisville.
The Lady Govs are looking to overcome their own demons in the form of a five-match non-conference road losing streak, dating back to a February 12th loss at Xavier. Also included are losses to Miami (Ohio), Southern Illinois, South Alabama and BYU Hawaii – all quality teams that have downed the defending OVC Champions.
Junior Vanja Tomic is starting to find her rhythm at No. 1 singles, having won her last five matches. That momentum, unfortunately, proves to be offsetting sophomore Carolin Weikard at No. 2 singles. Weikard, after having a remarkable freshman campaign, has lost five of her last seven matches. Freshman Rachel Margolies has climbed the Lady Govs rankings, winning her last two matches at No. 3 singles.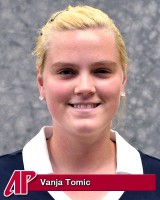 Kimberly Loo and Andra Cornea – the Lady Govs other two freshmen – have been strong, but inconsistent, at Nos. 4 and 5. Loo opened the season at No. 4, but has since dropped to No. 5, where she has lost two of her last three matches. Cornea, meanwhile, has won her only match at No. 4 in three sets at Eastern Kentucky.
Balance has been the mantra in doubles, but the Lady Govs still have much to be achieved. Weikard and Cornea have won five-straight matches at No. 2, but Tomic and Loo have are 2-3 at No. 1 doubles.
Louisville is coming a 5-2 win against Loyola Marymount and hosts the Lady Govs in the first of two weekend matches played at the Bass-Rudd Tennis Center. The Cards return to Big East action with a Saturday match against Marquette. Louisville is a young team with freshman Julia Fellerhoff leading the charge at No. 1 singles.