APSU Athletics

Clarksville, TN – Two senior athletes who authored record-setting careers have been named the 2010-11 Legends Award recipients.
And two underclass athletes who led their respective programs into the postseason have been named Most Outstanding Athletes. The recipients of Austin Peay State University's most cherished athletic awards along with the individual team honors were made Monday night at APSU's annual Athletics banquet, held in Dave Aaron Arena.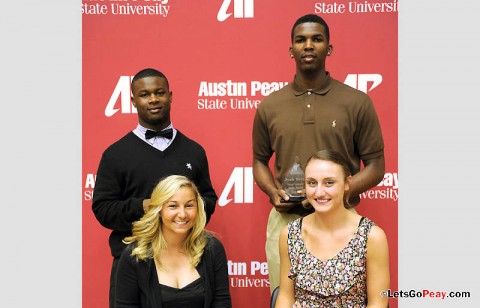 Terrence Holt, who not only set Austin Peay kickoff return records but as well left his name dotted in the Ohio Valley and NCAA records books, was named the Male Legends Award recipient.
Chelsea Harris, who became the first Lady Govs golfer in history to earn All-OVC recognition all four seasons and was a four-time OVC all-tourney honoree, was named the Female Legends Award recipient.
Sophomore outside hitter Nikki Doyle, who helped lead Austin Peay's volleyball team to the 2010 Ohio Valley Conference championship and the Lady Govs' first NCAA tournament appearance, has been named APSU's Most Outstanding Female Athlete.
Meanwhile, Josh Terry, whose defensive tenacity helped lead the Governors basketball team to 20 wins and the College Basketball Invitational, has been named Most Outstanding Male Athlete.
In addition, senior golfer Catie Tucker, who owns a 3.97 grade-point average and already has been accepted into the University of Tennessee psychology doctoral program, was named the Female Scholar-Athlete as well as the Perkins Freeman Governors Club Academic Achievement Award.
Soccer's MacKenzie Ladd, who holds a 3.89 grade-point average majoring in Communications Arts (broadcast media), has been named the Perkins Freeman Governors Club Academic Achievement Scholarship recipient for owning the highest grade-point average for a rising senior.
And baseball's Lucas Anderson, who owns a 3.712 grade-point average as a Political Science major with a general business minor, has been named the Male Scholar-Athlete recipient.
Terrence Holt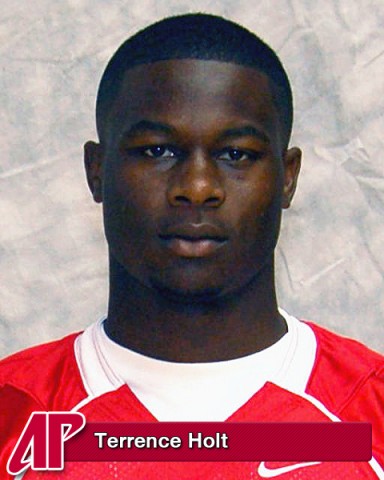 The first time Terrence Holt touched a football at Austin Peay he returned the kickoff for a touchdown. That began a record-setting career for a school that had little semblance of a kick-return game in the previous two decades.
Holt was named to the OVC All-Newcomer team as a freshman and then earned All-OVC as kick return specialist for the next three seasons.
He left Austin Peay with the top four single-season kickoff yardage return marks and in doing so became the first player in NCAA/FCS history to tally four 1,000-yard kickoff returns seasons. In addition to setting the OVC record for career and single-season returns yards, he also owns the mark for single-game return yards with 250 on seven kickoff returns at North Dakota State in 2008.
He left APSU with six kick returns touchdowns-four kickoff and two punt returns.
As a junior in 2009 Holt averaged 215.7 all-purpose yards per game, which was the best in all of FCS. He was the OVC touchdown leader that year scoring 15 total touchdowns. He finished the season with 200 or more all purpose yards in every single game.
The College Sporting News named the Nashville native as its first-team all-purpose back on the 2009 FCS Fabulous Fifty All-American Team. He also was named second-team FCS All-America all-purpose back by The Sports Network.
As a senior, he again was named to the College Sporting News Sweet 63 Football Championship Subdivision All-America team as a return specialist. He also was named an elite Kick Return Specialist by the College Football Performance Awards.
Holt was more than just kickoff return specialist. He helped Austin Peay develop one of the OVC's most feared running games over his last two seasons. In fact, was named All-OVC as a running back in 2009, joining teammate and running back mate Ryan White as first-team choices.
Chelsea Harris
APSU golf coach Sara Robson returned to her hometown of Metropolis, IL, to recruit Harris and she became the most decorated golfer in Lady Govs history. When she finished fifth at last weekend's OVC tournament, Harris became the first Lady Govs golfer in history to earn OVC all-tourney honors all four seasons. That came on top of her being the first player in APSU history to earn All-OVC honors for four years-she was a second-team All-OVC choice as a freshman and then was voted first team her final three seasons.
This year Harris recorded seven top-10 finishes, including medalist honors at the SIUE Intercollegiate-her third career individual championship-along with three second-place finishes, including the EKU Lady Colonel Classic where she posted the lowest 54-hole total (221) in Lady Govs history.
A year ago, Harris was named OVC Golfer of the Year and captured medalist honors at the OVC championships, becoming only the second Lady Gov in history to achieve such distinction.
She leaves APSU owning three of the Lady Govs Top 10 18-hole scores in history plus five of the Top 10 36-hole scores.
Harris was named OVC Golfer of the Week six times during her career, including three times as a senior. Her career winning percentage against opponents for her career approached 75 percent.
Off the field, the business management major holds a 3.3 grade-point average, earning Athletics Director's Honor Roll five times and Dean's List twice. She is an Academic All-America nominee.
Nikki Doyle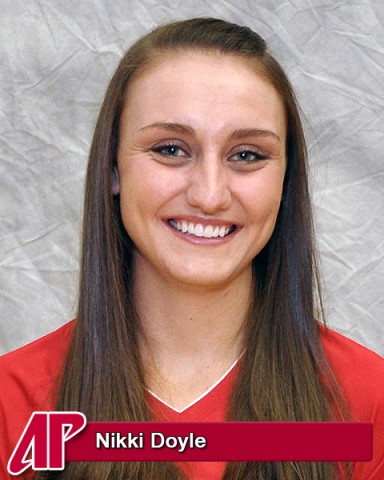 Doyle came to Austin Peay a year ago from UC Santa Barbara but was forced to sit out due to an injury. She stepped in for graduated OVC Player of the Year Stephanie Champine and the Lady Govs offense did not miss a step as the Lady Govs posted an overall 26-8 record, including a 14-4 OVC record.
The Santa Maria, CA, native finished her first season with Austin Peay with 435 kills (3.45 kills per set) – the sixth-best single season performance in APSU history. She received All-OVC honors after posting 229 kills (3.29 kills per set) during conference action. She accounted for 495 points on the year or an average of 3.93 per set.
But she was at her finest during the OVC tournament where she was named "Most Valuable Player" after recording 37 kills and a .321 attack percentage in two matches. Her performance spurred the Lady Govs into their first NCAA tourney appearance against Illinois.
After the season, Doyle earned All-Midwest honorable mention from the American Volleyball Coaches Association.
Josh Terry
Terry transferred to Austin Peay from Three Rivers Community and affected the defensive mindset of the basketball Govs from the outset. In APSU's first game, a victory at St. Louis University, he scored a team-best 18 points, but also came up with two steals, including the one that ended the game. A game later at Chattanooga, he had three more steals and seven deflections plus knocked away a desperation heave.
That was Terry's mission during the season, attempting to lockdown the opponents top offensive perimeter player. His work helped the Governors lower their defensive average by 5.4 points per game to 67 points per game.
Terry's work wasn't entirely on the defensive end. He averaged 11 points per game for the season to go with 4.3 rebounds plus a team-best 60 steals. He had 17 double-figure scoring outings, including two 20-point performances. Most notable was his 27-point performance at UT Martin when he scored 25 of those points in the second half.
He also connected for the game-winning field goal at home against Morehead State in December when he caught a pass from teammate TyShwan Edmondson and spun a left-handed reverse layup off the glass with 0.7 seconds left.
Legends Award
This the third year the Legends Award has been bestowed, continuing APSU's long-standing tradition of honoring the most valuable male and female senior athletes, respectively. The Legends Award, sponsored by Legends Bank, assumed the place of the Joy Award, which was originated in 1947 by the late Wilson Goodrich, then owner of Joy's Jewelers. From 1947-96, one APSU senior athlete was honored each year. However, beginning in 1997 a male and female senior athlete, respectively, was honored by Joy's and that continued through 2008. However, Joy's Jewelers closed its business in Spring 2008, with Legends Bank assuming the tradition of honoring athletics excellence.
Award Recipients
Individual Awards
Legends Award (men): Terrence Holt, football
Outstanding Male Athlete: Josh Terry, men's basketball
Legends Award (women): Chelsea Harris, golf
Outstanding Female Athlete: Nikki Doyle, volleyball
Female Scholar-Athlete Award: Catie Tucker, golf
Male Scholar-Athlete Award: Lucas Anderson, baseball
Governors Club Academic Achievement Award: Catie Tucker, women's golf
Governors Club Academic Achievement Scholarship: Mackenzie Ladd, soccer
Team Awards
Baseball
Most Valuable-John Hogan (2010)
Pitcher of the Year-Ricky Marshall (2010)
Most Improved-Dylan Ray (2010)
Scholar-Athlete-Lucas Anderson (3.712)
Men's Basketball
Most Valuable Offense-TyShwan Edmondson
Most Valuable Defense-Josh Terry
Scholar Athlete-Anthony Campbell (3.038)
Women's Basketball
Most Valuable-Jasmine Rayner
Most Improved-Dalila Thomas
Scholar Athlete-Nikki Talley (3.762)
Men's Cross Country
Most Valuable-Enock Langat
Scholar Athlete-Boniface Yator (3.615)
Women's Cross Country
Most Valuable-Janelle Avery
Scholar Athlete-Alyssa Molnar (3.652)
Women's Indoor/Outdoor Track
Field Athlete of Year-April Holman
Track Athlete of Year-Chiamaka Obi
Scholar Athlete-Courtney Jordan (3.581)
Football
Most Valuable Offense-Kelvin Little
Most Valuable Defense-Antwaun Majors
Most Valuable Special Teams-Terrence Holt
Scholar Athlete-Isaac Ziolkowski (3.654)
Men's Golf
Most Valuable-Anthony Bradley
Most Improved-Andrew Miller
Scholar Athlete-Drew Miller (3.436)
Women's Golf
Most Valuable-Chelsea Harris
Most Improved-Holly Batey
Scholar Athlete-Catie Tucker (3.973)
Women's Soccer
Most Valuable-Tatiana Ariza
Most Improved-Jocelyn Murdoch
Scholar Athlete-Samantha Northrup (3.967)
Softball
Most Valuable-Morgan Brewer (2010)
Most Improved-Catie Cozart (2010)
Scholar Athlete-Randal Davenport (3.515)
Men's Tennis
Most Valuable-Henrique Norbiato
Most Improved-Sean Bailey
Scholar Athlete-John Storie (4.0)
Women's Tennis
Most Valuable-Vanja Tomic
Most Improved-Rachel Margolies
Scholar Athlete-Brittany Hays (3.309)
Volleyball
Most Valuable-Nikki Doyle
Most Improved-Alex Sain
Scholar Athlete-Jessica Mollmann (3.504)
Pom Squad
Most Dedicated-Brianca Williams
Most Improved-Keyzha Martinez
Scholar Athlete-Sarah Arnold (3.618)
Cheerleading
Most Valuable-Taylor Clinard and Haley Lail
Scholar Athlete-Taylor Clinard (3.596)