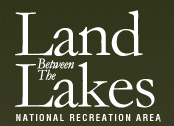 Golden Pond, KY – Extreme rainfall and high winds overnight damaged several locations at Land Between The Lakes (LBL) National Recreation. Swift & Staley maintenance crews have been working thru the night to clear roads of downed trees and other debris.
Visitors should use extreme caution on all roads in LBL due to possible flooding and debris from this storm. 
Areas of Concern
Turkey Bay OHV Area and Energy Dam remain temporarily closed due to the recent large amounts of rainfall. 
Due to water over the road, access to Energy Lake Campground is only available via Road 134 from US68/KY80 at this time. 
The Homeplace and South Welcome Station, located in the southern portion of LBL, will be closed today due to a power outage. 
Wranglers Campground and Riding Stables will be closed until further notice while crews repair major damage to the area. 
Road 165 South between Golden Pond Visitor Center and Wranglers Campground is closed indefinitely due to impassable conditions. 
Currently, there is a low hanging power line across The Trace at the Great Western Furnace.  No high clearance vehicles (RVs, equipment, etc.) will be able to pass.
Piney Campground, Energy Lake Campground, and Rushing Creek Campground are without power at this time.
All roads within LBL potentially will have hazards; downed limbs, washed out culverts, etc., from Golden Pond Visitor Center south.  Use caution and observe closures for your safety.
Some trails, roads, and boat ramps that are prone to flooding or danger from rising lake levels have also been closed.  LBL staff warns visitors who use the trails, roads, camping areas, and boat ramps to be extremely cautious. In addition, everyone is urged to use caution when crossing creeks, streams, or any areas with standing or flowing water. All low lying areas should be avoided whenever possible. Gravel roads have the potential to washout during these heavy rain events. Please use extreme caution when traveling on LBL's gravel roads. 
Visitors to LBL are encouraged to check the Alerts & Notices page on our website at www.lbl.org or to "Call Before You Haul," 270-924-2000, for current information and details.