APSU Sports: Men's Basketball
Home games vs. MTSU, Belmont, Arkansas State and road games at Memphis, UT highlight Governors 2011-12 basketball slate

Clarksville, TN – A 2011-12 schedule that sees Austin Peay State University men's basketball team playing in Tennessee 10 times in the season's first two months, including back-to-back Saturday trips to Memphis and the University of Tennessee, was announced Wednesday by Governors head coach Dave Loos.
The Governors, coming off a 20-14 campaign and returning four starters, will play 15 home games in 2011-12, including non-conference contests against Middle Tennessee (November 26th), Arkansas State (December 5th) and future Ohio Valley Conference member Belmont (December 21st). In fact, Austin Peay will play both Middle Tennessee and Belmont in home-and-home series in 2011-12, with the November 11th contest at MTSU serving as the season opener while the Govs will play at Belmont, February 6th.
Two December Saturday trips to Memphis (December 3rd) and Tennessee (December 10th) help highlight a pre-Ohio Valley Conference road slate.
"I think we have a tough, but attractive schedule for our fans," APSU coach Dave Loos said. "We have some really good non-conference home games against teams like MTSU, Arkansas State and Belmont. With Belmont joining the OVC next year, it makes that game even more attractive.
"We also have some games have some games at Memphis and Tennessee that help us pay the bills and with both games on Saturdays, they should even be of greater interest to our fans."
Memphis is coming off a 25-10 season under first-year coach Josh Pastner while Tennessee was 17-12/ 8-8 Southeast Conference and will have first-year coach Cuonzo Martin at the helm.
Those are just two in an impressive list of non-conference Govs foes who enjoyed outstanding success in 2010-11. Middle Tennessee (16-16/10-6) finished second in the Sun Belt East; the Govs home contest against the Blue Raiders will occur the Saturday after Thanksgiving. Arkansas State (17-15/11-5), meanwhile, was the co-champion of the Sun Belt West.
In a return of the 2009 BracketBuster game, the Governors will travel to Oral Roberts (19-16/13-5 Summitt League) on November 19th.
Belmont posted a 30-5 record in 2010-11 and were 19-1 in the Atlantic Sun while advancing to the NCAA tournament. That only conference defeat came to Lipscomb, whom the Govs will play in Nashville, November 28th. The Bisons were 19-16 a year ago, including a 13-5 A-Sun mark.
Also in November, the Governors will take part in the College Basketball Experience, with the opening-round game to be played during the week of November 13th-17th and the tourney's final three rounds to be played November 21st-23rd, the three days leading up to Thanksgiving.  The respective tourney sites and opponents still are to be determined.
The 2011 portion of the schedule won't conclude until the Governors open the OVC season at Eastern Kentucky, December 29th, and defending league tournament champion Morehead State, December 31st.
That will tipoff an unbalanced league schedule that will see the Governors play EKU, Morehead State, Murray State, Tennessee State, UT Martin and Southeast Missouri twice while facing Jacksonville State, newcomer SIU Edwardsville, Eastern Illinois and Tennessee Tech only once.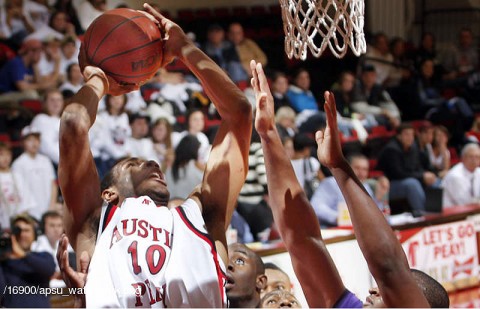 The unbalanced schedule allows league schools to play more non-conference contests, with the hope of bolstering RPI ratings.
"In a perfect world, we would play a double round robin," Loos said. "I am kind of a dinosaur when it comes to that. I always thought the fairest way was for everybody to play everybody (twice). With the way the league is structured I understand the philosophy (behind it). It is what it is and you have to deal with it."
Austin Peay will open the 2012 part of its schedule with four straight home games, beginning with defending OVC regular-season champ Murray State (January 7th), followed by Eastern Kentucky (January 12th), Jacksonville State (January 14th) and Tennessee State (January 16th). The Governors also will play UT Martin at home later in the month (January 28th) before having only three league February home dates against Tennessee Tech (February 2nd), Morehead State (February 15th) and Southeast Missouri (Feb. 25). The Governors also will be at home February 25th for the Sears BracketBuster contest.
The entire OVC tournament again will be played at Municipal Auditorium, February 29th-March 3rd.
The Governors again will tipoff the 2011-12 slate with a pair of home exhibition contests, the first coming against Division II Central Missouri (where Brad Loos, son of APSU's coach serves as an assistant), November 3rd and the second coming November 7th against Division III Manchester, IN, where former APSU graduate assistant Dugan Lyne serves as an assistant.