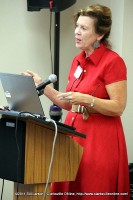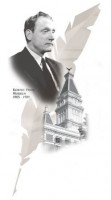 Clarksville, TN – Rheta Grimsley Johnson is such an unassuming, self-deprecating person you might not know from what she tells you when she begins speaking that she's a celebrated columnist, the author of Charles Schultz's biography, and a novelist with two marvelous books under her belt. She's also been awarded the National Pacemaker Award, the Ernie Pyle Memorial Award, the Headliner Award, the American Society of Newspaper Editors' Distinguished Writing Award and has been inducted into the Scripps Howard Newspaper Editorial Hall of Fame.
She has written for United Press International, The Auburn Plainsman, The Commercial Appeal (Memphis), and the Atlanta Journal-Constitution. Her syndicated column now appears in 150 newspapers.
As icing on the cake, she was one of three finalists for the Pulitzer Prize for commentary in 1991.
Rheta's books include American Faces (1987), They Didn't Put That on the Huntley-Brinkley!: A Vagabond Reporter Encounters the New South (1993), Good Grief: The Story of Charles M. Schulz (1989), Poor Man's Provence: Find Myself in Cajun Louisiana (2008), and Enchanted Evening Barbie and the Second Coming (2010). She also wrote text in 2000 for a book of photographs entitled Georgia.
At the beginning of her speech entitled "No Need for Fiction" at the Clarksville Writers' Conference on the first day, she began by saying something to the effect that she was not a speaker and she didn't know how much she had to say would be helpful.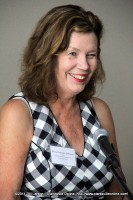 You'll have to judge for yourself because the following are as close as I can come to what she had to say for the next hour or so. I'm not using any quotation marks. Just assume they are there.
When I was working in Tupelo, I had gone to a jailhouse wedding. William Thomas Smith had never even had a parking ticket and didn't drink. Then his wife of 25 years left him and his construction business failed. He started drinking. He was going to a laundromat and had a basket of clothes on the seat beside him with his gun in the rack behind his head in the pick-up truck.   (There may be some unwritten law in the South that you have to have a gun in the rack in your pick-up.) He was passing a Baptist church and saw lots of big expensive cars in front—Cadillacs, etc. It made him mad because he was drinking rather heavily at the time and he thought how all these people were just hypocrites. He went into the church with no other intention than to tell these people his opinion. There was a substitute preacher that day; he was a small man, a deacon. William came down the aisle giving his own sermon. People were terrified and started screaming and taking cover. One woman even swallowed her diamond ring because she thought he would rob her. The deacons were behind him and attacked him. They beat the blood hell out of him, to tell the truth. William was charged with many counts of armed robbery, a felony at the time. His lawyer wasn't very good so he went to jail for an extended period.
His daughter was getting married so they had the wedding at the jail so he could see it and I went.
When I turned in my story, my editor said, "You know, in the South there's no need for fiction."
Here are three tricks of the trade I want to share with you:
Rhythm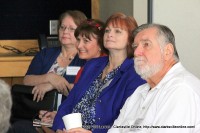 Rhythm is essential to good writing. If you have the luxury of time, read your own writing to yourself in a closet. I've done it on deadline in the newsroom in the ladies' room. When you read it aloud, the unnecessary words just jump out at you. I never read a column after it's in print because then it's too late.
Think like a poet. I can't write a poem, never could. Use evocative language. Use the right word, not one you have to look up in a thesaurus—a simple word. To rue, to cleave—they're in the Bible so your reader will know what they mean even if they aren't used very often. Use one word to paint a masterpiece. That's harder than it looks.
Jimmy Buffet said, "Chew a piece of Juicy Fruit," not "Chew a piece of chewing gum." Be specific.
When I started out at the Commercial Appeal, you couldn't use a name brand. You'd be giving them free advertising. Copy editors were sticklers for that rule.
I wrote one of my first columns about my grandmother at the old piano. She played everything ragtime. Her arms shook like peach Jell-O. It was changed to "peach flavored gelatin." I showed it to the editor the next day and he admitted that the change was wrong.
If I knew what I was writing about the next day, I would try to listen to some kind of music that fit the column subject. That kick-started me. If I had to do a Christmas column, I'd listen to Willie Nelson's "Pretty Paper."
If you read aloud a passage you love, you'll hear the method the writer used. Study the grammar, the alliteration, anything you see that made it stand out
Complicated passages by Frederick Exley (A Fan's Notes, Pages from a Cold Island, Last Notes from Home) are something I've studied.
In The Postman Always Rings Twice, James M. Cain wrote as his first sentence, "They threw me off the hay truck about noon."
Raymond Chandler in his Philip Marlowe series wrote plots that made no sense whatsoever, but he wrote these wonderful metaphors and similes.
"She smelled the way the Taj Mahal looks by moonlight."
"It was a blonde. A blonde to make a bishop kick a hole in a stained-glass window.
"He was about as inconspicuous as a tarantula on a piece of angel food cake."
I appreciate that cadence. We all strive for that style that is so recognizable. You find these heroes, these masters.
Vary your sentence length. I have it on a little bulletin board above my writing desk.
Restraint
I always get myself in trouble with this part of the talk.
I look through my column and check every verb. I try not to use adverbs and very few adjectives. The more dramatic the story, the less flowery the language needs to be.
In a murder mystery, you need to remember "just the facts please." Don't hit your reader over the head with a two-by-four.
I was told that I should lop off all my last sentences in my columns. It hurt my feelings, but I started looking and I was trying to make certain my reader didn't miss the point. I started lopping off my last sentences.
Declarative sentences are your mainstay. Avoid dialect unless it's your own
We all need a good editor but your first step is to edit yourself. Grisham's first book, A Time to Kill, is, I think, his best. After you get famous, people are afraid to edit you
In nonfiction, Ernie Pyle was told, "Don't use too many direct quotes. Use them sparingly."
I was in a cemetery in Paris, Tennessee, because I was told a man there still dug all the graves by hand. The gravedigger took me all around the cemetery showing me the graves of a former governor, a car dealer and all the other people he had buried. I didn't write. I just listened.
Afterwards, we sat on the tailgate of his truck and I asked him if he felt any different whether he was burying the car dealer or the governor. Does that influence you?
"No, ma'am. They all go about six feet under," he said.
I've never forgotten that.
Routine
A woman, who wrote about a dozen books a year and sold many, many copies, said the only rule was, "Sit your ass down!"
Her advice, though crudely put, was the best I've ever heard. You can't finish if you don't ever start. When I write, I have to go inside and not look out the window. I have to be almost cloistered.
Don't think that you have to be in some particular place. I write a little something every day. You need to find your place that works for you.
Marjorie Kinnan Rawlings (The Yearling, Cross Creek) put two sharecroppers' shacks together and put a porch on front. She wrote her books on that porch. That house is now a museum owned by the University of Florida. After I saw it, I went home and made myself a porch but I don't write on it.
Be selfish. Put a "do not disturb" sign on the door. Otherwise, other people think you're not working.
I've written 750-word columns for so long that it's all new to me to try to write a book. It's so easy to put it off.
Don't ask for the opinions of others until your work is done.
Don't write so long that you reach the point of diminishing returns. Three hours is my limit.
"Rough as a cat's tongue" is appealed to me and I tried to work it into every column I wrote but it never worked.
Don't be discouraged by other writers. There will always be someone better than you. Read something every day and don't give up. There's no such thing as writer's block if you have to make a living.
It's not an every day occurrence that you write something worthwhile, but when it's good, it's jubilation time.
If you have trouble getting started on a piece, go at it backwards. State what's not obvious. In one column, I wrote, "Not all the girls were pregnant." Approach it off kilter. I tried to say what I thought without saying what I thought. It illustrates something. I'm not sure what.
Since newspapers are going under, I'm trying to do something else. I'm writing a blog. It's hard but it's fun.
I write only one column a week now. The hardest part is remembering to do it. I feel like I'm on vacation now that I'm not writing three or four times a week.
Larry L. King said, "None but a blockhead writes for anything but money." He didn't make any money on The Best Little Whorehouse in Texas.
The first collection I wrote sold but I never received one royalty check. The publisher went out of business. There are a million scams out there.
We have to end on a brighter note.
I have a friend who is a great photographer. He's written some wonderful coffee table books. He's self-published. He never leaves Louisiana but speaks to senior groups. He's sold about 50,000 books and has made a good living.
Photo Gallery