Clarksville, TN – On August 17th, 2011, around 11:30am, a 28 year old Cranklen Circle man returned home and saw a stranger, later identified as Christopher Williamson, walking out of the front door of his house.
At first glance, he thought the stranger was a friend of his roommate.  But, that idea was quickly dispelled when he realized Williamson was carrying a rucksack that belonged to him.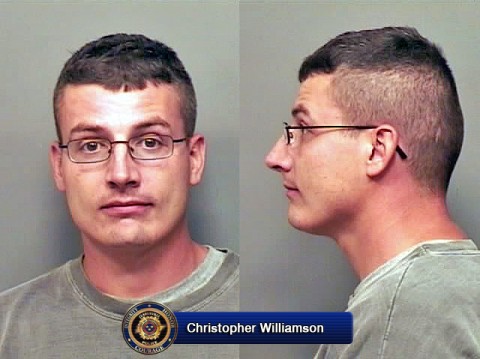 He confronted Williamson who dropped the rucksack and took off running into a nearby wood line.  The homeowner chased him, but lost sight of him after he entered the woods.
In the meantime, a witness called 911 to get Police on the way.  When officers arrived, they set up a perimeter in an effort to catch Williamson, but he was able to elude them.
About an hour later, a Clarksville Transit System bus driver called  911 and told them about a man that he saw running into a cornfield near Jack Miller Boulvard and Tobacco Road.
Police surrounded the field and were able to locate and take Williamson into custody.  When Williamson was caught, he was wearing a sweat shirt that belonged to the homeowner.
Christopher Williamson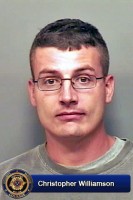 Name: Christopher David Williamson (W/M)
DOB: 9/29/80
Given Address: 586 Cub Creek Road, Indian Mound, TN
Arresting Officer: Robert Durham
Charged With: Aggravated Burglary
Booked Into: Montgomery County Jail
Bond: $5,000.
The lead investigator is Detective Robert Durham.