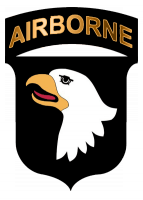 Fort Campbell, KY – Saturday 216 more soldiers from the 4th Brigade Combat Team arrived home to Fort Campbell after several flight delays.  Family members were equally excited to see the plane as it approached Campbell Army Airfield and decended on the runway.
With lots of cheers, tears, waving signs and banners, the year long deployment to Afghanistan as come to an end for these soldiers.
As solders deplaned, the were greeted at the foot of the stairs by Col. Jenkins and Col. Hickman along with the Honor Guard.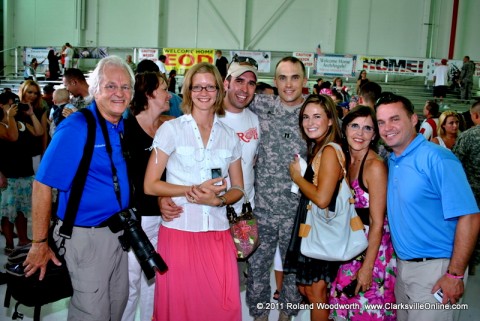 As soldiers made their way towards the hanger, they were greeted by injured soldiers who offered hand shakes and hugs for their fellow soldiers.
With their gear on the ground, soldiers formed up for their grand entrance into Hanger 3 where family members waited inside eager to be reunited with their soldiers.
Once inside Hanger 3, Deputy Comander of Operations, Col. Bill Hickman welcomed everyone home in a brief Welcome Home speech.
Afterwards, soldiers were allowed 15 minutes of family time before heading back to their unit to turn in their gear.  As soldiers were released, the hanger floor was quickly covered with people as family and friends looked for their soldier during both ceremonies.
Cpt. Tad Reed was greeted by his wife Misty along with his mother Kay Marable, brother Brad Reed, brother Willie Reed and his wife Stephanie, father Todd Reed and stepmother Debbie Reed. They are looking for a little quality family time together.
There are still more soldiers over seas that will be heading home soon. If you wish to attend a Welcome Home Ceremony, check the flight schedules online, as times are subject to change at anytime. When arriving to Fort Campbell, enter via Gate 7; if you don't have installation stickers on your vehicle, you will be required to get a visitor pass. From there just follow the signs to the ceremony parking. Waiting buses transport family members safely to the hanger.
Photo Gallery