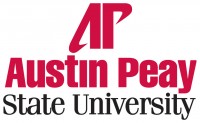 Clarksville, TN – Austin Peay State University is "more than lecture." In fact, it's all about "opportunities."
That is the message many will hear and see when APSU unveils a new advertising campaign beginning Thursday, September 1st.
The campaign, titled "Opportunities," will include new television commercials airing this fall and billboard advertisements for the middle Tennessee area, as well as markets in Jackson and Chattanooga.
In addition, APSU's website has a new Web page devoted to sharing all the opportunities students have to take advantage – in conducting research, studying alongside renowned artists, develop mobile apps, pursuing study abroad and much more.
Two commercials – titled "More than lecture" and "This is Austin Peay" – can be viewed below:
More than Lecture
This is Austin Peay
The purpose of the new ad message is to convey to students – both current and prospective, graduate and undergraduate – that at APSU, the opportunity for them to work with professors in their chosen academic discipline is the focus.
And that doesn't mean students have to be a straight-A students to take advantage of the opportunities at APSU; they just have to bring forth the effort. To demonstrate this, the campaign highlights some of APSU's students who have grasped the opportunities.
For example, this past summer, biology student Clare Spielman worked with some of the world's top scientists to understand the workings of the immune system, embryonic development and gene regulation at the internationally-renowned Max Planck Institute of Immunobiology and Epigenetics in Freiberg, Germany. For the last two semesters, she has conducted research using human breast cancer cells to identify if estrogenic compounds exist in substances such as food coloring. She is continuing progress this semester, thanks to a Presidential Research Scholarship to support her investigations.
For more information, contact Bill Persinger, executive director of APSU Public Relations and Marketing, or 931.221.7459.
Sections
News
Topics
APSU, APSU Public Relations and marketing, Austin Peay State University, Bill Persinger, Chattanooga TN, Clare Spielman, Germany, Jackson TN, Tennessee