APSU Sports Information: APSU Cross Country

Richmond, KY – Sophomore Xiamar Richards finished 10th, but Austin Peay State University women's cross country team slipped to a seventh-place finish at the Ohio Valley Conference Cross Country Championships, Saturday, at The Arlington Course.
Richards finished the five-kilometer course in 18:41.49 and earned second-team all-conference honors. She improved on last season's 25th-place finish at the championships and posted her season's fifth top-10 finish.
"Richards did an outstanding job finishing 10th overall," said head coach Doug Molnar. "She had a real big kick down the stretch to catch three or four people. The course was real sloppy and very hilly. Overall the girls ran good times, but the conference has gotten so much better and we need to go at that change."
Sophomore Kendra Kirksey was the next Lady Gov across the line finishing in 26th place (19:18.63). Senior Janelle Avery (35th, 19:47.75) and junior Chantelle Grey (44th, 20:12.02) finished out a quartet of top-50 finishes for the Lady Govs in the 75-runner field. Sophomore Miranda Weed (61st, 21:05.63) and junior Alyssa Molnar (69th, 21:57.63) rounded out the Austin Peay effort.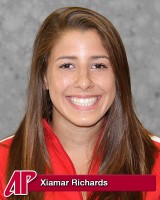 Eastern Illinois won the team championship, stunning host Eastern Kentucky which entered the meet with five consecutive titles. The Panthers finished with 41 points to just outpace the Lady Colonels 57-point effort. Southeast Missouri (88 points) finished third. Jacksonville State (4th, 103 points), Murray State (5th, 116) and Morehead State (6th, 142) finished ahead of the Lady Govs.
The Lady Govs return to action in two weeks with the NCAA South Regional, November 12th, at Harry Pritchett Running Park in Tuscaloosa, AL.