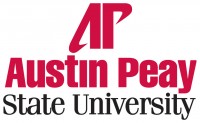 Clarksville, TN – In May of 1961, a group of young Austin Peay State University students, believing that they were living at the end of history, chartered a new campus honor society focused on studying the past.
"We thought we had missed all the great things," Riley Darnell ('62), former Tennessee secretary of state and founding member of the club, said. "There would be no more wars."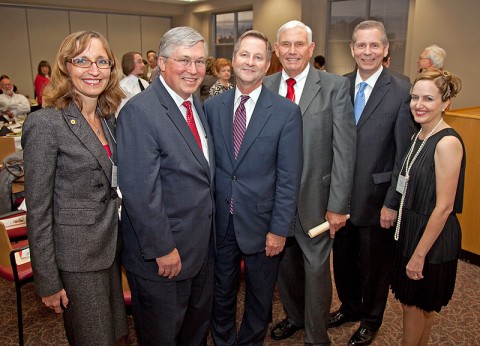 The new Theta-Delta chapter of the Phi Alpha Theta History Honor Society was charged with preserving and studying the world's final great events. But then, over the years, something strange happened. History continued, with the Vietnam War, President Richard Nixon's resignation, wars in Iraq and Afghanistan and the current economic crisis.
Through those turbulent, eventful years, APSU's PAT chapter has continued to thrive, and on a Friday evening in late October, former members and professors gathered at the University to celebrate the organization's 50th anniversary.
"I doubt if I could get in the organization today," Darnell, also a former state representative and state senator, joked.
"They've accomplished great things, and I'm really proud of them. It has gone far for a school the size of Austin Peay."
The club has earned an astounding reputation in recent years. In August, it was named as "Best Chapter" in the country for the third year in a row. Members continue to work tirelessly, hosting lectures, attending workshops and roundtables, volunteering in the community and delivering papers at academic conferences. Last April, the chapter also released a new, 95-page scholarly journal featuring academic papers by APSU students who had presented at conferences in recent years.
"It is an admirable accomplishment to have a chapter reach this milestone, however, your chapter has gone above and beyond in its 50 years of existence," Graydon Tunstall, executive director of the national PAT organization, said in a letter to the local club. "Theta-Delta has maintained an active status since its inception in 1961 and over the last few years has emerged as one of our strongest chapters in the country."
Dr. Minoa Uffelman, APSU associate professor of history and chapter adviser, carefully slid Tunstall's letter back into its envelope. She set it down on her desk, near an old, hand-written flier she'd made while a student and PAT member at APSU in the early 1980s.
"I had no budget back then, so I took a manila folder and made this for the spring banquet from 1983," she said.
The date on the poster caused her to do some quick math, and she realized that she was a member of the organization around its 25th anniversary at APSU. After seeing Darnell and others at last Friday's event, she's excited about the organization's future.
"It is exciting to think that some student at this 50-year celebration will attend the centennial anniversary of Theta-Delta at APSU in 2061," she said.
One of those students might be Robin Sloan, a current PAT member at APSU. Sloan joined the club in part because of its reputation around campus, but after last month's anniversary event, she has gained a new respect for its mission and success.
"We really got a sense of our legacy, and it made us want to work that much harder to make sure that in another 50 years, our chapter is still going strong and doing great things," she said.
The 50th anniversary celebration included a keynote address by Darnell on the historic events that have occurred since the club's founding, a proclamation from the city of Clarksville and visits by dignitaries such as state Sen. Tim Barnes and state Rep. Joe Pitts.
"We've been so successful because we have great support, and we have wonderful students," Uffelman said.
For more information on the APSU PAT chapter, contact Uffelman at uffelmanm@apsu.edu.