APSU Sports Information: Austin Peay Basketball

Bowling Green, OH – TyShwan Edmondson missed a potential game-tying running one hander with 1.3 seconds left as Austin Peay State University fell to 0-5 on the season as George Washington held off the Governors, 54-52, Tuesday, in the College Basketball Experience played at the Stroh Center.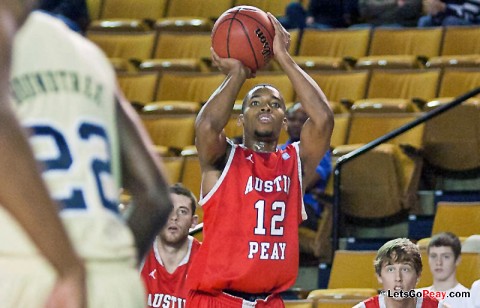 The frustration of the early season continued for the Govs, who are now 0-3 in the CBE and will face Detroit, 4:00pm, CT in their final tourney game, Wednesday, before a long bus ride home.
George Washington is now 3-1 on the season and will play host Bowling Green in Wednesday night's nightcap.
Off to their worst start since 1993-94, Austin Peay struggled offensively against George Washington, connecting on just 20 of 58 (34.5 percent) from the floor, including only 4-of-14 (28.6 percent) from the three-point line. It was the fourth time in five games APSU shot below 40 percent.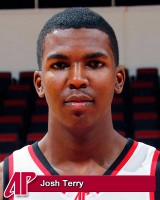 George Washington wasn't much better, making just 21 of 53 (39.6 percent) of its shots. However, the Colonials were able to shoot at 52 percent (13 of 25) in the second half and it allowed them to overcome a one-point halftime deficit and lead the entire second half.
But the Govs, who trailed by as much as seven second-half points were able to rally down the stretch but lost two potential layups after their own steals when the Colonials' Tony Taylor, a preseason Atlantic 10, stole the ball from the Govs, the second one coming with 13 seconds left when Taylor stripped Anthony Campbell on what could have been the game-tying play.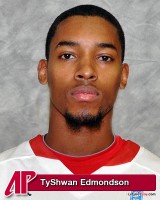 APSU was forced to foul Taylor with 10.7 seconds left but the senior guard missed the front end of a one-and-one, giving APSU another chance to either tie or win the game. Edmondson drove right side and floated a high arching shot off the backboard. However, the ball hit the right side of the rim and bounced off. The Colonials grabbed the rebound, giving APSU its seventh straight loss since the 2010-11 season's end.
Edmondson led all scorers with 17 points while also collecting three steals. Josh Terry added 12 as APSU's only double-figure scorers.
Aaron Ware came off the bench to pace George Washington with 12 points while Taylor added 11. However, Taylor, who had 22 against Detroit, was hounded defensively by first Jerome Clyburn and then Terry and held to only 4-of-12 shooting.