APSU Sports: Austin Peay Football

Clarksville, TN – Austin Peay State University's football team increased its speed and athleticism with the 12 players added Wednesday on college football's National Signing Day.

The Governors depth to both sides of the football, in particular, adding speed to the wide receiver and tight end positions as well as defensive end. The Governors also added an explosive running back.

"We filled needs, that's what we usually do recruiting-wise with the best players we can and from there we spot pick people we think are going to fit into our program and fit chemistry of what we are trying to do," APSU coach Rick Christophel said. "We are excited about the people we have signed.

"Out of the 12 guys, we will redshirt a good portion of them. There will be two or three of them that will have to play. But the offensive linemen and two of the defensive ends, hopefully, we will be able to redshirt. We signed two really good, athletic tight end candidates that we believe are really going to be good football players down the line. Our recruiting efforts fit the needs of what we had to have. "

The Governors, in particular, added speed at wide receiver in Mikhail Creech, of Ooltewah High School, and Brett Pippen, of Sevier County, and LaDarius Chatman, of Craigmont.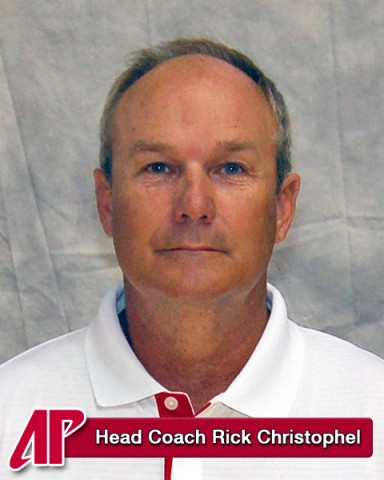 "We lose four wide receivers next year," Christophel said. "We signed four or five last year and now we have added more, that helps with our depth."
However, the most impressive aspect of the Govs recruiting was their ability to not only add athleticism to the roster but versatility as well. Corey Teague was signed as a 6-1, 230-pound defensive end, but he also played wide receiver and running back at Ezell Harding. Dustin McPhetridge was an All-State quarterback at Powell High School who threw and rushed for more than 1,000 yards as a senior. He also played linebacker as a senior. He is expected to play tight end for the Governors.
Trey Salisbury played multiple positions at Smith County High School but the Governors project the 6-5, 205 pounder as a defensive end. Samuel Cooper was signed as a 6-4, 220-pound tight end but as a senior at Nashville Christian shifted inside to tackle.
However, the day's most intriguing signee could be running back Omar Williams. The 5-9 Memphis native (St. George Independent School) overall statistics are impressive enough-1,930 yards rushing on 212 carries, including 23 TDs. But in his last two high school games he combined for more than 650 rushing yards. In the Division 2-A state title game, Williams broke the state championship game records for most rushing attempts (43) and yards (322) in being named the game's offensive MVP.
"We are really excited about him," Christophel said. "He is a guy our coaches said we had to get. The thing about Omar is he just lights up the room. He has that ever-present smile and the sparkle in his eyes when he walks in."
The Governors, who saw J.J. Rutledge, a cornerback, transfer from Air Force at semester start, also added one junior college transfer. Defensive end Malcolm Goines, originally from Chattanooga (Red Bank), will join APSU from Grand Rapids (Mich.) Community College.
Elijah Annor
Offensive Lineman
6-1, 270
Pearl-Cohn High School
Old Hickory, TN.
Played for former Govs' tight end Tony Brunetti…Class 3AA All-District offensive line selection…started for two years while lettering for three…attended school at Martin Luther King Magnet High School but played at  Pearl-Cohn…parents are both Ghanaian.
http://www.hudl.com/athlete/703429/elijah-annor
LaDarius Chatman
Wide Receiver
5-11, 160
Craigmont High School
Memphis, TN.
As senior, caught 44 passes for 848 yards and 13 TDs…ran one kickoff back for TD…also rushed for 239 yards and three TDs…was named first-team all-region and Best of the Preps All-Metro…Commercial Appeal Best of the Preps football finalist…starting flanker in the Liberty Bowl All-Star game.

Samuel Cooper
Tight End
6-4, 220
Nashville Christian
Kingston Springs, TN.
Played both offense and defense at Nashville Christian…four-year starter, moved inside from tight to to tackle as senior…caught 18 passes for 216 yards during his career…was selected defensive MVP as end…credited with 82 tackles as senior, including 57 solo stops…had more than 130 career tackles, including 23 for loss.
Mikhail Creech
Wide Receiver
6-3, 175
Chattanooga, TN.
Ooltewah High School
As senior wide receiver, caught 47 passes for 887 yards with 8 TDs, including a long of 75 yards…had eight catches for 214 in one contest and four receptions for 137 yards in another…as defensive back, had five interceptions for 165 yards in returns along with 25 tackles…named to Chattanooga Times Free Press first-team Best of Preps at wide receiver… chosen district and district wide receiver of the year… voted team offensive MVP.
http://www.hudl.com/athlete/935639/mikhail-creech#highlights
Malcolm Goines
Defensive End
6-2, 260
Grand Rapids Community College
Red Bank High School
Chattanooga, TN.
Only Govs' junior college signee…finished with nine tackles for loss at Grand Rapids, including four quarterback sacks…earned first-team all-conference and all-region…earned Athlete of the Week honors after recording 16 tackles, including 3.5 tackles for loss, against Harper College…at Red Bank was all-region product as senior and was a 2009 preseason All-State selection…finished with 74 tackles for season, including 24 for loss…played in the 2010 East-West All-Star game.

Dustin McPhetridge
Tight End/H-back
6-2, 230
Powell High School
Powell, TN.
Outstanding all-round athlete who played quarterback at Powell High School…as senior, rushed for 1,000 yards and passed for another 1,000…threw for 10 TDs as senior and rushed for another 12…ended career second all-time in total offense in school history with 5,574 yard (2,829 passing and 2,785 rushing)…named first-team Associated Press All-State at quarterback as both a junior and senior…selected District 3AAA Offensive Player of the Year in both 2010 and 2011…first-team All-Knoxville Interscholastic League…chosen to Prep Xtra first-team offense… also played linebacker as senior…2011 United State Army All-American Combine participant.
http://www.ncsasports.org/football-recruiting/tn/powell/powell-high-school/dustin-mcphetridge

Tyler Miles
Offensive Lineman
6-4, 300
Science Hill High School
Johnson City, TN.
First-team All-Conference selection…graded out at 90 percent, including 28 pancake blocks…2011 East/West All-Star game selection…
http://www.ncsasports.org/football-recruiting/tn/johnson-city/science-hill-high-school/tyler-miles
Brett Pippin
Wide Receiver
5-11, 170
Sevier County High School
Sevierville, TN.
Played for former Governors quarterback Steve Brewer at Sevier County…caught 81 passes during his career for 1,736 yards (21.4 ypr) and 20 TDs…earned all-county and all-region at wide receiver as junior and senior…also earned all-state honors in track last spring…chosen to participate in East/West All-Star game.

Gage Scurlock
Quarterback
5-11, 175
Smith County High School
Elmwood, TN.
As senior, completed 51 of 100 passes for 1,047 yards and 16 TDs…also rushed for 746 yards on 108 carries (6.9 ypr), including 11 TDs…as junior completed 80 of 146 passes for 1349 yards and 12 TDs…also rushed for 501 yards and 9 TDs…as junior and senior chosen District 8AA MVP as well as Upper Cumberland Offensive Player of the Year…chosen for Border Bowl 2012…was preseason All-State selection.

Trey Salisbury
Defensive End
6-5, 205
Smith County High School
Lebanon, TN.
Played multiple offensive and defensive positions…recorded more than 180 tackles in his final two prep seasons at Smith County…as senior recorded six quarterback sacks along with seven other tackles for loss…also forced four fumbles…voted first-team All-State as senior by Tennessee Sports Writers Association…named first-team all-district as both junior and senior…selected Most Outstanding Defensive End as senior and chosen first-team All-Upper Cumberland as senior after earning second-team as junior.

Corey Teague
Defensive End
6-1, 230
Ezell Harding
LaVergne, TN.
Played multiple positions during high school career, including, defensive end, wide receiver and running back as senior…rushed for 131 yards and two TDs as senior while catching 13 passes for 170 yards and three TDs…finished with more than 120 tackles for his career on the defensive side…selected team captain as junior and senior chosen most improved as sophomore…
http://www.maxpreps.com/video/watch.aspx#!videoid=f7acbb60-9fe3-4110-bcf6-70327b7fd598
Omar Williams
Running Back
St. George's High School (Collierville)
Memphis, TN.
As senior rushed for 1,930 yards on 212 carries, an average of 9.1 ypr…ran for 23 TDs and caught another…in the Division 2-A playoffs, ran for 1,100 yards and 14 TDs, including 334 yards and 5 TDs in state semifinal contest…broke championship game record for rushing attempts (43) and yards (322) in being named state championship MVP…Division 2-A West Region Offensive Player of the Year…first-team All-State by Tennessee Sports Writers Association…first-team all-region as well Best of the Preps All Metro…Commercial Appeal Best of the Preps football finalist…

Sections
Sports
Topics
APSU, APSU Athletics, APSU Football, APSU Men's Football, APSU Sports, Austin Peay State University, Clarksville TN, Corey Teague, Gage Scurlock, Governors, Govs, LaDarius Chatman, Malcolm Goines, Mikhail Creech, Omar Williams, Rick Christophel, Trey Salisbury, Tyler Miles