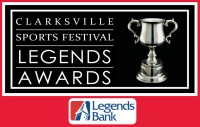 Clarksville, TN – The nominations are in for the second Clarksville Sports Festival Legends Awards. The City of Clarksville Parks & Recreation Department along with Legends Bank have partnered in an effort to honor both current and past coaches who are or have made a unique difference and solid contribution to sports and athletics in the Clarksville-Montgomery County area.
The Legends Awards consists of two categories: Coach of the Year and Legends Old School Coach.
Finalists in each category are as follows:
Old School Coach
Richard "Dick" Hardwick, former Montgomery Central High School Basketball & Baseball Coach
Clarence Kendrick, former Northwest and Clarksville Academy Basketball & Baseball Coach
Chuck Babcock, former Northwest and Kenwood High School Track Coach
Mickey Fisher, former Fort Campbell High School Basketball Coach
John Earl "Soapy" Haynes, former Little League Baseball Coach
Coach of the Year
Jeff Jordan, Clarksville High School Wrestling
Mackel Reagan, Clarksville Budo Club
Chris Beasley, SSF Submission Academy
Isaac Shelby, Northeast High School Football
Donny Caver, Northwest Little League
Mike Blackwell, Clarksville National Girls Softball
These coaches will be honored at the second-annual Legends Award Coaches' Banquet which will be held March 15th, 2012, beginning at 6:30pm at William O. Beach Civic Hall in Veterans Plaza. This banquet is free and open to coaches that are currently coaching or coached in 2011.
A ticket is required to attend and can be picked up at the City of Clarksville Parks & Recreation main office between the hours of 8:00am and 4:30pm. Because of space limitations, there are only 200 tickets available. Last day to pick up a ticket is March 9th.
For more details on the Clarksville Sports Festival Legends Awards, please contact the Clarksville Parks and Recreation Office at 931.645.7476 or visit www.cityofclarksville.com.
Sections
News
Topics
City of Clarksville, Clarksville Academy, Clarksville High School, Clarksville Parks & Recreation Department, Clarksville Sports Festival, Clarksville Sports Festival Legends Awards, Clarksville TN, Clarksville-Montgomery County Area, Coach of the Year, Fort Campbell High School, Isaac Shelby, Jeff Jordan, Kenwood High School, Legends Award Banquet, Legends Bank, Legends Old School Coach, Montgomery Central High School, Montgomery County Veterans Plaza, Northeast High School, Northwest High School, Northwest Little League, SSF Submission Academy, William O. Beach Civic Hall