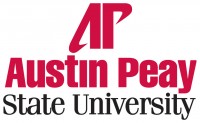 Clarksville, TN – In the middle of the night, a little sliver of light shines from the doorway of the observatory in the remote farmland of the Austin Peay State University Environmental Education Center.
Inside, maybe with a cup of coffee or a soda to keep her awake, is APSU physics student Katie Boedges, waiting for the Cat's Eye Nebula to appear in the night sky.
"It rises at 1:30am in the morning, so I'm usually going to be there all night long," she said.
Her nocturnal visits to the observatory are the result of a major project she is finishing up for the University. Earlier this year, Boedges received a $3,000 Presidential Research Scholars Award to build a spectrometer for the telescope. This is a piece of equipment that measures light of, say, a star or nebulas to determine its composition, density, temperature and host of other things.
Last week, while passing through the hall of the Sundquist Science Building, Boedges nonchalantly mentioned that she's looking at Cat's Eye to make sure the spectrometer is working correctly. APSU associate professor of physics Dr. Justin Oelgoetz overheard her.
"She built this! It wasn't ordered," he said with a laugh. "Katie doesn't present it as real flashy, but this is a major project."
Dr. Alex King, chair of the APSU Department of Physics, agreed with Oelgoetz.
"It gives us a completely new capability," he said.
Boedges wrote a proposal last year seeking a PRS grant to build the spectrometer. The Presidential Research Scholars Program presents awards every year to student-faculty teams in support of scholarly and creative activity. Once Boedges, who worked with APSU associate professor of physics and astronomy Dr. Allyn Smith, learned she had received the money, she set to work designing a custom-built instrument that could be attached to the telescope.
"I had to get a person in the Astronomy Club who is also a machinist," she said. "I consulted with him on what I needed, gave him the measurements and stuff, and he made it. And a lot of parts were donated from downstairs."
The spectrometer is now attached to the telescope, meaning that Boedges is staying up late looking at stars, planets, the moon and nebula to make sure the spectrometer is working properly.
"I'm really excited," she said. "We have to fix the secondary mirror, but then we're just going to continue on with the project as planned."
Boedges, a senior at APSU, will graduate this May, but the spectrometer she designed and built will remain at the observatory for use by students, faculty and other researchers.
"This is a capability that is new, but it can be used not just for students for educational purposes, but this instrument can be used to take spectra which can then be analyzed and used for research purposes," Oelgoetz said.
For more information on this spectrometer, contact the APSU Department of Physics at 931.221.6116.