APSU Sports: Austin Peay Women's Golf

Old Hickory, TN – Tala Mumford carded her first career hole-in-one, Tuesday, as the Austin Peay State University sophomore fired a final-round 74 to finish tied for fifth in the Belmont Invitational, played at the Old Hickory Country Club.
For the 36-hole tourney, Mumford shot a 152 (78-74), her career's best tournament performance. Unfortunately for the Lady Govs, however, she was playing as an individual and her score didn't count towards the team score.
Still, the Lady Govs bounced back, Tuesday, to fire a 319 to finish fourth with a 642 (323-319). Host Belmont won the tourney with a 616 (304-312).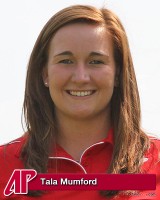 But it was Mumford who was the talk of Tuesday's round after her hole-in-one on the par 3, 139-yard No. 2 hole. Using an eight iron, the Metropolis, IL, native lofted her tee shot into the relatively calm conditions, dropping it directly into the hole.
"She dunked it," APSU coach Sara Robson said. "It didn't touch the green, it landed directly in the hole.
"That was so exciting for Tala. She had a really good day; she played much more like she is capable."
She wasn't the only Lady Gov to finish below 80. Sophomore Rachel Deaton backed up Monday's 76 with a 79, Tuesday, for a two-day 155, leaving her in an eighth-place tie.
Redshirt sophomore Tabitha Beard also had a 79 to go with Monday's 81 to end with a 160 score, tying her for 15th.  A third 79 was recorded by freshman Meghan Mueller, who bounced back from Monday's 84 for a 163 total.
"Rachel, with her foot issues, played well again and Tabitha, if not for a couple of shots, would have been even better," Robson said. "Meghan really has played well in qualifying but it hasn't translated to tourney play until today."
Junior Holly Batey, again battling illness, shot an 82 to finish at 168 (t-29th) overall while senior Ashley Averitt shot an 84 today to finish with a 166, leaving her in 27th place.
Junior Lauren Bond, like Mumford in playing as an individual, followed Monday's 79 with an 81, Tuesday, for a 160 total, leaving her tied for 15th.
The Lady Govs played this tournament without freshman Marta Gutierrez, who is out with an ankle injury. They also face playing without her in this weekend's EKU Lady Colonel Classic, a 54-hole tourney that will take place Friday (36 holes) and Saturday (18 holes) at Arlington Golf Club in Richmond, KY.
Belmont Invitational – Final
Finish
School – Players
Scores
Totals
4
Austin Peay State University
323
319
642
8
Rachel Deaton
76
79
155
T 15
Tabitha Beard
81
79
160
T 20
Meghan Mueller
84
79
163
27
Ashley Averitt
82
84
166
T 29
Holly Batey
86
82
168
T 5
Tala Mumford
78
74
152
T 15
Lauren Bond
79
81
160