APSU Sports: Austin Peay Women's Tennis

Clarksville, TN – Austin Peay women's tennis team defeated Tennessee State, 6-1, picking up its fourth Ohio Valley Conference win. The Lady Govs host Jacksonville State, 2:00pm, Saturday, for Senior Day.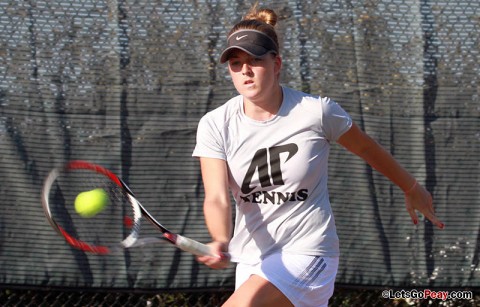 Austin Peay won all three doubles matches to take the point and went on to win the top-5 singles matches. Senior Vanja Tomic did not play singles, leaving the Lady Govs to forfeit at No. 6 singles.
Freshman Ornella Di Salvo played her first match at No. 1 singles, becoming the first APSU player other than Tomic to play in the top spot. Freshman Alison Carre moved up to play No. 2 singles and sophomore Andra Cornea played at No. 3 for the first time. Freshman Jovana Karak won in straight sets at No. 5.
Austin Peay 6, Tennessee State 1
Singles competition
1. Di SALVO, Ornella (APSUW) def. SIMMONS, Melynda (TSUW) 6-2, 6-4
2. CARRE, Alison (APSUW) def. THOMAS, London (TSUW) 6-2, 6-3
3. CORNEA, Andra (APSUW) def. THOMAS, Lauren (TSUW) 6-0, 6-0
4. TAVAREZ, Vanessa (APSUW) def. MASON, Kryston (TSUW) 6-0, 6-1
5. KARAK, Jovana (APSUW) def. SUBER, Shardel (TSUW) 6-0, 6-4
6. WILLIAMS, Khadijah (TSUW) def. No player (APSUW), by default
Doubles competition
1. TOMIC, Vanja/CARRE, Alison (APSUW) def. THOMAS, London/THOMAS, Lauren (TSUW) 8-1
2. Di SALVO, Ornella/CORNEA, Andra (APSUW) def. MASON, Kryston/SIMMONS, Melynda (TSUW) 8-0
3. TAVAREZ, Vanessa/KARAK, Jovana (APSUW) def. SUBER, Shardel/WILLIAMS, Khadijah (TSUW) 8-0